Dragon Post by Emma Yarlett – Book Review
Dragon Post by Emma Yarlett – Book Review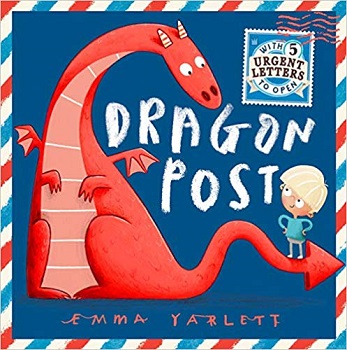 Dragon Post
Author – Emma Yarlett
Publisher – Walker Books
Pages – 32
Released – 4th October 2018
ISBN-13 – 978-1406379716
Format – hardcover
Reviewer – Stacey
Rating – 5 Stars
I received a free copy of this book
Post contains affiliate links.
A fiery story about friendship and asking for help from award-winning author-illustrator Emma Yarlett.
One day Alex finds a dragon living in the cupboard under the stairs. Luckily he knows just what to do. He writes letters to lots of different people – including the fire brigade and the butcher to ask how he should take care of his surprise visitor.
Children will love opening the five envelopes and reading the hilarious letters to Alex and then following his magical adventure with his new fiery friend.

One day little Alex finds a baby dragon hiding in the cupboard under his stairs. He knows that dragons can breathe fire and is worried the dragon will set fire to the house so he writes to the fire brigade to ask them what he should do. He then wants to know what the dragon should eat so he writes to the butcher, plus he also needs to know if the living conditions are right for the dragon, so he writes to the wildlife centre.
Alex receives handwritten letters back from everyone he writes to, plus he also receives a letter from a solicitor too.
Dragon Post is a brilliantly funny book that not only lets the child read the story, it also lets them join in by being able to open five letters from various people. The story is told and written by Alex in what looks like crayon and child-like handwriting. It is a tale of friendship and also about asking for advice when you don't know what to do.
The illustrations are just divine and they certainly draw the eye to the pages. I absolutely adored this book and believe that children will love it too. Just keep it out of the way of very small kiddies hands as you don't want the letters, which can be removed from the book, going missing or getting ripped.
Reviewed by Stacey
---
Purchase online from:
---
About the Author

Emma Yarlett is an award-winning author, illustrator and typographer.
Emma's bestselling book series Nibbles has sold over half a million books across five continents, won numerous awards and accolades and has nibbled it's way onto the bookshelves and imaginations of children across the world. Emma's self-penned picture books Orion and the Dark, Sidney Stella and the Moon and Poppy Pickle have also achieved global success, won numerous awards and been adapted into theatrical plays and other media.
Emma studied illustration at Falmouth University and graduated with first class honours in 2011. She began work on her first self-penned picture book Sidney, Stella and the Moon whilst still studying at university.
Emma now lives in Falmouth, Cornwall with her husband Alex.




---