The Summer of Serendipity by Ali McNamara – Book Review
The Summer of Serendipity by Ali McNamara – Book Review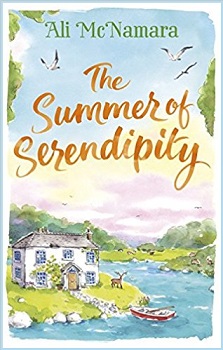 The Summer of Serendipity
Author – Ali McNamara
Publisher – Sphere
Pages – 368
Release Date – 13th July 2017
ISBN-13 – 978-0751566208
Format – ebook, paperback, audio
Reviewer – Stacey
I received a free copy of this book
Post Contains Affiliate Links

One summer, property seeker, Serendipity Parker finds herself on the beautiful west coast of Ireland, hunting for a home for a wealthy Irish client. But when she finds the perfect house in the small town of Ballykiltara, there's a problem; nobody seems to know who owns it.
'The Welcome House' is a local legend. Its front door is always open for those in need of shelter, and there's always a plentiful supply of food in the cupboards for the hungry or poor.
While Ren desperately tries to find the owner to see if she can negotiate a sale, she begins to delve deeper into the history and legends that surround the old house and the town. But for a woman who has always been focused on her work, she's remarkably distracted by Finn, the attractive manager of the local hotel.
But will she ever discover the real truth behind the mysterious 'Welcome House'? Or will the house cast its magical spell over Ren and help her to find true happiness?
Review
Serendipity, or Ren as she likes to be called, is a property seeker. Her job is to find homes for her clients, when they can't find them for themselves.
When one of her clients wants a holiday/retirement home on the Emerald Isle, she sets off to find him that home with a list of requirements, oh and her assistant Kiki.
After days of searching and finding nothing remotely close to what she is looking for, she soon becomes aware of a property up on a hillside. On closer inspection the, 'The Welcome House', as it is called, is perfect. There is just one problem, no one knows who owns it.
The Summer of Serendipity is an enticing novel, bringing together a wonderful story, filled with friendly, realistic characters, gorgeous scenery, and a little bit of magic.
Ren is a woman on a mission, she doesn't like to fail, and has never given up on getting that one property that her clients want, no matter what, or who stands in her way. So when she is faced with trying to discover the owner of 'The Welcome House' she isn't about to give up without a fight. But this is one fight she just may not win!
Kiki, Rens assistant is hilarious. Her misconstrued knowledge had me often giggling to myself. Who would of thought that the 'Emerald Isle' wasn't called that because of all the Emeralds on the island!!
There are plenty of secondary characters too, with Finn, the hotel manager, and Eddie, one of the hotel staff, taking centre stage.
The book is shrouded with mystery, from ghostly goings on, to a house that seems to be alive, and then there are the secrets that both Ren and Finn seem to be hiding.
Weaving the main plot, with many subplots, the book is a real page turner. I was hooked from the beginning. The uplifting spirit that surrounds this book had me eager to keep reading. It gave me a glow of happiness, and I was fully invested in not only wanting to discover what secrets 'The Welcome House' was keeping, but I also enjoyed the romance that carefully invited itself into the book too.
Book reviewed by Stacey
Purchase Links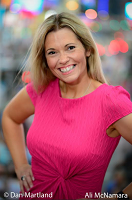 Ali McNamara attributes her over-active and very vivid imagination to one thing – being an only child. Time spent dreaming up adventures when she was young has left her with a head bursting with stories waiting to be told.
When stories she wrote for fun on Ronan Keating's website became so popular they were sold as a fundraising project for his cancer awareness charity, Ali realised that not only was writing something she enjoyed doing, but something others enjoyed reading too.
Author Links
www.alimcnamara.co.uk
@alimcnamara
Facebook
Instagram
Goodreads