The Midnight Fair by Gideon Sterer – Book Review
The Midnight Fair by Gideon Sterer – Book Review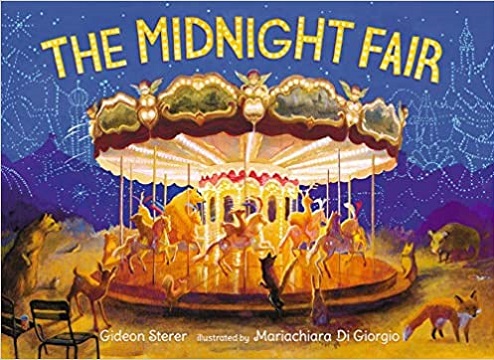 The Midnight Fair
Author – Gideon Sterer
Illustrator – Mariachiara Di Giorgio
Publisher – Walker Books
Pages – 48
Released – 1st October 2020
ISBN-13 – 978-1406388312
Format – hardcover
Review by – Stacey
Rating – 4 Stars
I received a free copy of this book.
This post contains affiliate links.


A spectacular, surreal and cinematic wordless picture book about the secret life of animals.
Far from the city, but not quite in the countryside, lies a fairground. When night falls, and the fair is empty, something unexpected happens. Wild animals emerge from the trees, a brave raccoon pulls a lever, and the rollercoasters and rides explode back into bright, neon life. Now it's time for the woodland creatures to have some fun…

In case you missed it in the blurb, this book is wordless, it is filled to the brim with glorious illustrations that bring the tale to life.
The story is one of a fairground outside of a city where every day the animals see the humans enjoying themselves and decide that they would like to have some fun too. One night when all the people have left they head to the fair and enjoy the delights of the food and the rides, that is until a security guard comes along, but will he spot who is playing at the fair?
The book is quite dark in colour as the story is set at night-time. The animals including a bear, rabbits, deer, raccoon, cat, fox, and many many more, watch for all the people heading home from the fair waiting for their turn to enjoy themselves. The book doesn't state where the fair is but judging by one of the stalls being 'cotton candy' and the price in dollars I can only presume it is in America.
I enjoyed seeing the animals having a ride on the teacups, swings, and pirate ship amongst other amusement rides, plus munching on the confectionary and hot dogs. They certainly look like they are enjoying themselves.
I can see children wanting to 'read' this picture book over and over again making up their own story to go with it each time.
Book Reviewer – Stacey
---
Purchase online from:
---
About the Author

Gideon Sterer is the author of Skyfishing and The Night Knights. His parents owned a wildlife discovery center near their house when he was growing up, so he is well acquainted with strange animal behavior. Gideon rents a nest in Brooklyn, New York.




---
What did you think of The Midnight Fair? Share your thoughts in the comment section below!
---
The above links are affiliate links. I receive a very small percentage from each item you purchase via these link, which is at no extra cost to you. If you are thinking about purchasing the book, please think about using one of the links. All money received goes back into the blog and helps to keep it running. Thank you.
Like us on Facebook – Tweet us on Twitter – Pin us on Pinterest