Something in the Water by Dean Comyn – Book Review
Something in the Water by Dean Comyn – Book Review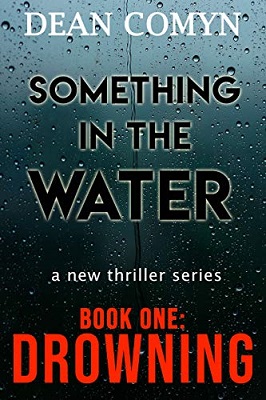 Something in the Water
Author – Dean Comyn
Pages – 380
Released – 26th January 2021
Format – ebook, paperback
Rating – 3 Stars
I received a free copy of this book.
This post contains affiliate links.


Synopsis
'Not-Yet-Detective Sergeant' Charles Burns hasn't been officially named a member of a newly formed Metropolitan Police task force yet. That was supposed to happen Monday. But a brilliant young scientist has disappeared, along with his potentially lethal discovery, and an unknown organisation has plans to weaponize it.
There goes the weekend…Something in the Water Book One: DROWNING propels Charles Burns into his first mission: Find the scientist and stop his discovery from becoming a weapon against humanity.
Dean Comyn is a brave man. His biography describes him as a Canadian who has lived in Turkey and now Germany yet he has the courage to set his book in England and sell it to the English. More precisely the plot sits within a secretive division that reports directly to the Home Office.
Added to that, the author has a love of detailed descriptions which requires a great deal of confidence. If you keep things vague nobody expects too much accuracy but if you pack your pages with lines of detail the chances of slipping up are great. Generally Comyn does very well but there are a few words and passages where his non-UK background shows through.
Mostly those descriptions are well written and increase the atmosphere of the story but occasionally I felt they held up the plot, particularly in the action passages.
The lead protagonist, Charles Burns, is very much the stereotypical tough guy with an unconventional approach. Coming from a Canadian Military background he is drafted into a special Metropolitan Police Unit and not surprisingly he doesn't fit in although he gets some respect from the few colleagues that have worked with him before.
The supporting characters tended to be rather stereotypical but my bigger challenge was that I wasn't quite sure how, as a reader, Comyn expected me to view Burns. The truth is that I had very little empathy for him. Yes, he was clever and when required he was tough but did he have to be so arrogant, so sarcastic or such a bully? Call me old fashioned but I still expect my heroes to be polite and have respect for others.
Burns had a few attempts at humour but he failed to make me laugh and I cringed somewhat through the chapter where Burns was flirting to gather information.
The published synopsis for Something in the Water. Book 1: Drowning suggests a plot that involves saving the world. I'm not sure that this volume quite lives up to that promise although we are left with plenty of hints as to what may follow in the rest of the series. The side plots were meagre but the book's climax has plenty of action and the whole book is filled with those detailed descriptions that I referred to before.
Something in the Water. Book 1: Drowning is a passable action story which promises more as the series develops. However, given the thin plot and my lack of enthusiasm for the lead character I can only award three stars.
Purchase Online From:
---
What did you think of 'Something in the Water'? Share your thoughts in the comment section below!
---
The above links are affiliate links. I receive a very small percentage from each item you purchase via these links, which is at no extra cost to you. If you are thinking about purchasing the book, please think about using one of the links. All money received goes back into the blog and helps to keep it running. Thank you.
Like us on Facebook – Tweet us on Twitter – Pin us on Pinterest – Join us on Instagram