Evaders by E.C. Scullion – Book Reveiw
Evaders by E.C. Scullion – Book Reveiw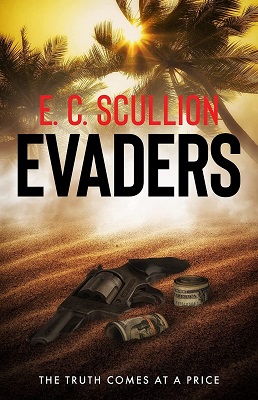 Evaders
Author – E.C. Scullion
Publisher – RedDoor Press
Pages – 320
Released – 19th August 2021
ISBN-13 – 978-1913062736
Format – ebook, paperback
Rating – 5 Stars
I received a free copy of this book.
This post contains affiliate links.


Synopsis
'I KNOW THINGS… THINGS I SHOULDN'T KNOW'
A crime has been uncovered. Clare Buchanan has been missing for almost twelve years.
Former security manager Tom Holt knows that the man responsible for her disappearance goes by the name of Capricorn.
On the run in South America, Holt's life is in danger.
In London, journalist Nash Akinyemi discovers the story that could make her career; a chance to finally step out of her mother's shadow.
Talented thief Becca Wylde has worked for Capricorn her whole life; now it's time to break free.
Together, Holt, Nash and Becca must risk everything to expose Capricorn's secrets to the world. Yet Capricorn has his own weapon. Anton Merrick has a dark past, and he will stop at nothing to keep them all silent…
From the streets of London, to the shores of Chile, to the tropical islands of Panama, the race is on to expose the truth, before the truth gets buried. The second novel from the author of the bestselling Intruders.
Evaders is the sequel to Intruders, which was released in June 2020. The plot begins right where the first book ended and they need to be read in order for you to understand what is happening.
In Intruders, we met Tom Holt an ex-security consultant who took on a job for someone called 'Capricorn' in South America. A team of 'experts' had been put together to crack a safe in a gated community and recover the contents.
In Evaders Tom Holt is now on the run and some of the team from the job are dead. Tom decided the contents from the safe were too precious and the truth needed to be outed. He sent copies of what was in it to a detective and a journalist.
The detective is on Capricorns payroll but Journalist Nash Akinyemi definitely isn't and she knows that outing this information will see her career take off. Together, Tom, Nash, and thief Becca, who was part of the team in Intruders, but worked for Capricorn, are joining forces to get more evidence and make the information public.
Evaders is a full-on fast-paced thriller that has action on every page. We move from country to country as the trio tries to keep one step ahead of Capricorn and his henchman. The plot is fascinating and kept me interested the whole way through. It was good to be back in the company of Tom Holt who had made some bad choices in his life which is how he ended up in South America running for his life.
I loved the combination of the trio. The banter and the attention to detail. They each brought something to the story, though they fitted together perfectly. You get the sense of having to look over your shoulder at every stage, which left you with that 'edge of your seat' feeling. This is an amazing series that you need to read.
Purchase Online From:
---
What did you think of 'Evaders'? Share your thoughts in the comment section below!
---
The above links are affiliate links. I receive a very small percentage from each item you purchase via these links, which is at no extra cost to you. If you are thinking about purchasing the book, please think about using one of the links. All money received goes back into the blog and helps to keep it running. Thank you.
Like us on Facebook – Tweet us on Twitter – Pin us on Pinterest – Join us on Instagram