Blood Runs Cold by Dylan Young – Book Review
Blood Runs Cold by Dylan Young – Book Review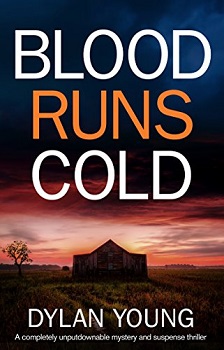 Blood Runs Cold
Author – Dylan Young
Publisher – Bookouture
Pages – 304
Released – 16th May 2018
ISBN-13 – 978-1786814036
Format – ebook, paperback
Reviewer – Stacey
Rating – 4 Stars
I received a free copy of this book
Post contains affiliate links.
She had stopped crying. There was no window, the walls were smooth and it was quiet. She didn't want to be alone. But she didn't want him to come back.
On a bright spring morning, walkers find a tattered plastic bag half-buried in the rolling hills of Somerset. Inside lie a collection of bones; human, but too thin and light to be an adult's.
The bones belong to Rosie Dawson, a little girl who disappeared ten years ago. Detective Anna Gwynne is back at work after a case that nearly cost her her life. The trail is stone cold, but Anna will stop at nothing to find the killer, and escape thoughts of her own dark past.
Then another little girl is abducted near a river bank on the hottest day of the year, and her sister can't remember anything about the man who took her. Nobody thinks the cases are connected, but then Anna finds a photo of her that matches an old one of Rosie. In the same dark room. The same concrete walls. The same stony floor.
The killer is bragging.
With just two photos and a witness too young to help, can Anna find the killer in time to save a little girl's life?

Detective Anne Gwynne is back at work following her serious injuries sustained in the first book, 'The Silent Girls'. Her first case is looking at two historical cases, one the rape of a young woman in 1983 as advanced DNA analyse have identified the culprit to be one of two brothers. The other is the remains of a ten-year-old girl, Rosie Dawson, who went missing in 200, have been found in an isolated area. Just her bones and they have been bleached too.
Whilst working on these two cases with her team an eleven-year-old girl called Blair is abducted in Edinburgh with her sister Kirsty. Kirsty is found dumped in a field, alive, but there is no sign of her sister. There is nothing to link the case of Rosie and Blair until a photo is found of her that matches a photo they had of Rosie in a dark, concrete room.
Anne must use all her knowledge and expertise to find Blair before she to is killed like Rosie.
When I first started reading Blood Runs Cold, I hadn't realised it was book two in a series, that was until Detective Anne Gwynne made several comments about an old case and her injuries. This got me thinking and so I checked whether I had missed a book, turned out I had. However, I had no problem reading, or understanding this book, so as far as I can tell it can be read as a stand-alone too.
The plot is fast-paced and whilst there are a few detectives on the cases, the story mainly follows Anne and new DS Dave Woakes, who is one of the most obnoxious characters I have read about. Detective Anne Gwynne isn't a woman to be defined by her past and her near-death experience in book one. She is a woman on a mission and all she cares about is getting the right result and the right culprit. Her cases take over her life until they are brought to a close.
The book was thrilling and had me guessing who the killer was right up until he was revealed, which is a credit to the author as normally I have worked out the culprit by the time they are announced. I think it was probably down to having quite a few people who were 'suspects' in my eyes.
This is a fascinating, multi-layered novel that doesn't just follow one case the whole way through, but three that intermingle. It was a gripping page-turner, I now can't wait for book three.
Reviewed by Stacey
---
Purchase online from:
---
About the Author
Dylan Young grew up in a mining village in South Wales before boarding a train for university in London. A career in the NHS followed, but the urge to write never went away.
Three dark psychological thrillers for Random House emerged in the late nineties, two of which were made into BBC films. Over the last decade, under different pseudonyms, he's written children's books and an adult contemporary fantasy series. But his liking for crime (writing) never died. Book 1 in the Detective Anne Gwynne crime thriller series, The Silent Girls, and Book 2, Blood Runs Cold, are available now.





---