The Good Hawk by Joseph Elliott – Book Review
The Good Hawk by Joseph Elliott – Book Review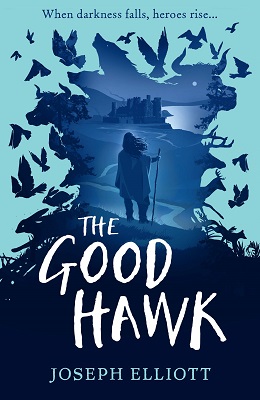 The Good Hawk
Shadow Skye Trilogy Book One
Author – Joseph Elliott
Publisher – Walker Books
Pages – 368
Released – 6th February 2020
ISBN-13 – 978-1406385854
Format – ebook, paperback
Review by – Stacey
Rating – 4.5 Stars
I received a free copy of this book.
This post contains affiliate links.


If everything was taken from you, what would you do to get it back?
Agatha patrols the sea wall with pride, despite those in her clan who question her right to be there, because of the condition she was born with.
Jaime is a reluctant Angler, full of self-doubt and afraid of the sea.
When disaster strikes, the pair must embark on a terrifying journey to a land where forgotten magic and dark secrets lurk in every shadow…
Thrilling and dark, yet rich with humour and compassion, this novel marks the debut of a wonderful new voice in fantasy and a welcome new kind of protagonist – perfect for fans of The Girl of Ink and Stars, Garth Nix and Michelle Paver.

The Good Hawk is a YA historical book set in the days when Clans ruled parts of the world. The book opens with fifteen-year-old Agatha who has Down Syndrome. She lives at the north of the Isle of Skye with her clan, 'Clann-a-Tuath' and her role in the clan is that she is a Hawk, they guard the wall to the enclave and watch for anyone coming to attack them.
We then meet fifteen-year-old Jaime who is an Angler, although not a very capable one as he doesn't like the sea and he gets sick whilst onboard the boats. He wants to be a Wasp, the people who make the boats, but all professions are given to the members and they can not be changed.
The clan lives a quiet life but they decide to try and keep the peace with the clan from the Isle of Raasay after Clann-na-bruthaich is wiped out by the aggressive Deamhain. In trade for them receiving long-range weapons, they agree for Jaime to marry one of the girls from Raasay, against his wishes.
After the wedding, Jaime and his new bride Lileas are to spend their first night out at sea, however, waiting on board is Agatha who wants to help Jaime get away from his new wife. He knows that Agatha will be in trouble if he sends her back to land immediately so he decides to try and sneak her back in the morning and all three bed down for the night. Unfortunately, the Clan-a-Tuath have been double-crossed by the Raasay as they get them drunk and then open the gates to let in the Deamhain.
With all the clan elders murdered and the others taken as slaves, it is up to Agatha, Jaime, and Lileas to work out a plan to get their members back and to make sure they are not captured or killed in the process.
The Good Hawk is a fascinating book. It contains adventure, mystery, magic, and action. I have heard it being referred to as a YA version of Game of Thrones. I haven't read the books and only watched one episode of the series, so I can't comment on the likeness, but I think being set in some old world with clans fighting and a few mystical moments thrown in does sound similar to me.
The book is told in dual narrative from Agatha and Jaime. Agatha's sections did take me a few chapters to get used to as they are written in quite a basic, young way, but once you realise that Agatha has Down Syndrome you start to understand why and embrace it. I'm not normally a fan of dual or multiple narratives but the writing felt so different for each character that I quite enjoyed it.
The story is split into three sections; Skye, Scotia, Norveg and a map at the beginning lets you know where these places are in relation to one another. In Scotia, the people have been killed by a plague and we also get our first proper look at Agatha's abilities to communicate with animals.
Overall, this was a book I flew through as I enjoyed it so much. I am just glad that it is the first in a trilogy as I will get to read more about our two amazing characters who are both so different from one another, yet work well together.
Book Reviewer – Stacey
---
Purchase online from:
---
About the Author

Originally from Bristol, Joseph studied English Literature and Drama at the University of Manchester, before doing an MA in performance at Central School of Speech and Drama.
For the last twelve years, he has worked as an actor, predominantly in comedy and children's television. He is best known for playing pirate 'Cook' in the BAFTA-winning CBeebies series, Swashbuckle, for which he also writes many of the scripts.
In 2017, he co-created, wrote and starred in InterNOT, a comedy sketch show commissioned by the BBC, which parodies the bizarre world of YouTube. He is also part of the writing team for CBBC's Class Dismissed and The Amelia Gething Complex. When not writing or acting, Joseph loves painting, snorkelling and playing board games. He is a firm believer that houmous goes well with everything.
The Good Hawk is his first novel.




---
What did you think of The Good Hawk? Share your thoughts in the comment section below!
---
The above links are affiliate links. I receive a very small percentage from each item you purchase via these link, which is at no extra cost to you. If you are thinking about purchasing the book, please think about using one of the links. All money received goes back into the blog and helps to keep it running. Thank you.