What's the alarm on the Monster Farm? by Stef Rzysko – Book Review
What's the alarm on the Monster Farm? by Stef Rzysko – Book Review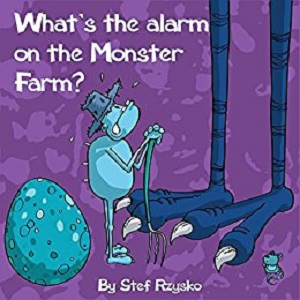 What's the alarm on the Monster Farm?


Laugh and Learn Book Two
Author – Stef Rzysko
Pages – 15
Release Date – 4th August 2017
Format – ebook
Reviewer – Stacey
I received a free copy of this book
Post Contains Affiliate Links

Follow the monster farmer on his rounds, counting the funny, strange and sometimes yucky creatures of the MONSTER FARM!
The laugh and learn series of books are aimed at children who are learning their numbers and counting for the first time.
The pages are funny and sometimes even comically gruesome and use a simple rhyming scheme. This combination keeps the process of learning numbers fun, and leaves the child wanting to read the books again and again!
Review
I recently reviewed book one in the Laugh and Learn Series, 'How Do You Make A Monster Cake?', and awarded it five stars.
Monster is back and this time he is counting all the animals on a farm, but this isn't any farm, this is a monster farm. Amongst the animals you would find on a 'normal' one, there are unusual creatures, such as, Spider Sheep, and Monster Pups.
What's the alarm on the Monster Farm?, is a counting book with numbers one to ten, for little children to learn them in a fun and exciting manner. The pages are quite dark, with a mixture of blues and purples and fit the monster theme well.
The story is written in a rhyme, and I find that children love a rhyming book, it helps the words to flow, and those just learning to read make sense of the words easier.
What's the Alarm on Monster Farm? is another short, yet amusing and engaging book written and illustrated by Stef Rzysko. I can't wait to see what Monster gets up to next time.
Book reviewed by Stacey
Purchase Links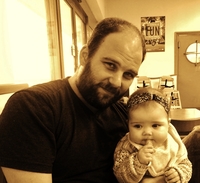 Everyone has to start somewhere, and I started right here January 2016.
After getting my degree in Illustration, I did what a lot of 'Arty' types do when they leave University and proceeded to meander my way through the next 15 years of my eventful life trying my hand at numerous jobs, as well as travelling and living abroad.
Well, after working as a Diamond Technician, as a Toy Tester, as a Medical Engineer, an Art Teacher in New Zealand, an Avocado Packer, a member of Royal Security, (I could go on and on) I finally awoke from the happy whirlwind I had been riding!
I found myself living back in the UK, with my beautiful wife Heidi and my two perfect little girls Connie and Bettie, wandering what I should do with my life.
'In order to be happy you must finally do a job that makes you happy,' I kept saying, 'in order to support the ones you love financially, you must do what you're best at' I kept thinking……
……..Only one answer presented itself to me. I had always dreamed of writing and Illustrating my own Children's Books. So, here I am, biting the bullet, waving 'goodbye' to procrastination, realising the dream!
Author Links
@StefRzysko
Facebook
Goodreads
What did you think of 'What's the alarm on the Monster Farm?'