Toby's Tale by Jennifer Freedman – Book Review
Toby's Tale by Jennifer Freedman – Book Review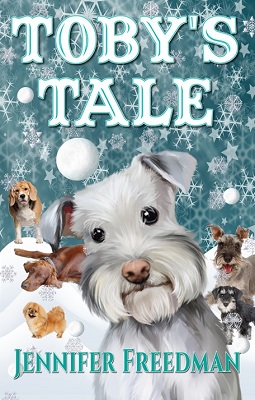 Toby's Tale
Author – Jennifer Freedman
Publisher – Pen It Publications
Release Date – 14th December 2021
Format – ebook, paperback
Star Rating – 5
I received a free copy of this book.
This post contains affiliate links.

Synopsis
Toby's Tale is a story of strength, perseverance and love. Toby is a Schnauzer puppy who selflessly leaves his family and embarks on a great adventure as he seeks his forever home. He learns about friendship, loyalty and kindness, but he also experiences cruelty and hopelessness. Toby's Tale is full of colorful characters — both two-legged and four-legged — who play key roles as Toby takes each step of his journey.
Traveling with Toby on his journey to adulthood is an excursion along life's road; a trip that shows how all creatures are searching for the safe, secure place where they belong. With that goal in mind, Toby overcomes hardship and loneliness by finding an inner strength stemming from the values of family, friendship, loyalty and faith.
Toby's Tale is a learning experience shared in a visionary, fun way with valuable lessons about life. It's a story about hard choices. An adventure that gives people four legs instead of two, by allowing them to view life through the eyes of a dog. A tale about belief, tenacity and love. As your fingers run through the pages, Toby will run through your heart.
Toby's Tale By Jennifer Freedman is a beautiful children's story that is such a powerful reminder of how much heart and love animals have to give to us humans. Nothing (including the ads on tv for various shelters) has ever made me want to adopt a dog more than this book has.
Although aimed at children I believe this book is suitable for people of all ages. It takes you on a journey and shows you aspects that you might never have considered of a dog's life. It certainly made me cry at least once every 10 pages too.
I can see Toby's Tale being a wonderful asset for teaching children and young teens about the importance of adopting pets rather than buying from breeders, as well as giving older people a newfound appreciation for the pets they may already have.
The book really highlights the love pets have for us and how important we are to them, and even though it is a work of fiction, there are parts I absolutely believed were based on the truth.
I gave Toby's Tale 5/5 stars. More importantly I will be keeping this book in my collection to read over and over again as I loved it so much.
---
Purchase Online:
Jennifer Freedman
Jennifer Freedman has been around. Five years exploring the Middle East, studying in Egypt, covering the first Gulf War in Saudi Arabia and trying to convince the authorities in Jordan that she wasn't an Israeli spy. Then 30 years in Europe, raising three wonderful children, writing about economics, finance and trade for print and online media including Bloomberg News, visiting almost every country in the European Union and falling in love with the history, culture, natural beauty and cuisines of the Old World.
She and her four dogs and two cats are now settled among the toucans, howler monkeys and coconut palms of Costa Rica. She works as a freelance journalist and editorial consultant for United Nations and other institutions as well as international think tanks and private companies. In her spare time, she loves cooking, reading, writing poetry, playing pickleball, feeding bananas and papayas to the birds, and shooting down enemies in World of Warplanes.
In parallel to her lengthy career as a journalist, Jennifer began creative writing when she was pregnant with her youngest child. The result was Toby's Tale, the story of an adorable puppy and his journey to adulthood, published by Pen It Publications in November 2021. She's now working on the second book in the series, Toby's Travels: The Adventure Continues, which tackles important issues such as diversity and disability. Pen It Publications will publish her rhyming picture book, Ashley's Rescue: A Miracle Breakdown, in May 2023.
Jennifer is passionate about writing stories that not only entertain and educate, but also tug at the heartstrings and have readers rooting for the (under)dog.
Author Links:
---
The above links are affiliate links. I receive a very small percentage from each item you purchase via these links, which is at no extra cost to you. If you are thinking about purchasing the book, please think about using one of the links. All money received goes back into the blog and helps to keep it running. Thank you.