The Pet Potato by Josh Lacey – Book Review
The Pet Potato by Josh Lacey – Book Review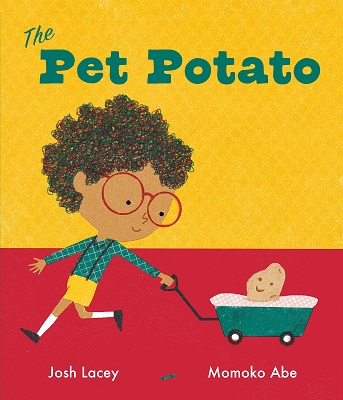 The Pet Potato
Author – Josh Lacey
Illustrator – Momoko Abe
Publisher – Andersen Press
Release Date – 2nd March 2023
Pages – 32
ISBN 13 – 978-1839130823
Format – Paperback, hardcover
Star Rating – 4
I received a free copy of this book.
This post contains affiliate links.

Synopsis
Albert is so desperate to get a pet, he'll take anything – a cat, a dog, giraffe… he's not fussy, so he's super excited when Dad finally brings a pet home. There's just one problem: it's a potato. Potatoes can't do anything a proper pet does… can they?!
Branford Boase Award shortlisted Josh Lacey and World Illustration Award shortlisted Momoko Abe bring warmth and humour in perfect measure to this story, perfect for any child who's desperate for a pet!
Little Albert had always wanted a pet but his parents always came up with reasons why he couldn't have one. For every birthday and Christmas, he only had one wish, he wanted a pet.
One day his dad gave him a potato and told him it was his new pet. At first, Albert wasn't happy. A potato couldn't be a pet. But then he came up with lots of ways to play with it.
The Pet Potato is a fun, heart-warming book about a little boy who just wants a pet to love and how because a potato had brought him so much joy that he wanted to share that joy with others.
The story is uplifting and will show children that you can have fun in lots of different ways, I mean who would have thought a potato could make a child so happy?
This is a story that is a little bit unusual but it really works. It is full of emotions and keeps the reader engaged. It is also full of bright, colourful illustrations that are full-page and so adorable.
Overall, The Pet Potato might be a book you look at and think, 'Really!' but it does 'really' work. I can see this book bringing lots of smiles and might even have the young reader wanting a pet potato of their own.
---
Purchase Online:
Josh Lacey

Josh Lacey is a British writer born and raised in London. Josh worked as a journalist, a teacher and a screenwriter before writing his first book, A Dog Called Grk. He has written several other children's books including The Dragonsitter, Island of Thieves, and The Pet Potato.
He also wrote the adult book God is Brazilian, a biography of Charles Miller. He also writes under the name Joshua Doder.
Author Links:
---
The above links are affiliate links. I receive a very small percentage from each item you purchase via these links, which is at no extra cost to you. If you are thinking about purchasing the book, please think about using one of the links. All money received goes back into the blog and helps to keep it running. Thank you.