The Diseased by SM Thomas – Book Review
The Diseased by SM Thomas – Book Review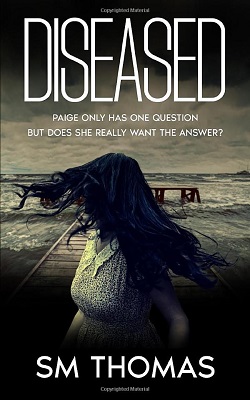 The Diseased
Author – SM Thomas
Publisher – A.R Hurne Publishing
Release Date – 20th August 2022
Pages – 318
ISBN 13 – 978-1739676919
Format – ebook, paperback, audio
Star Rating – 3.5
I received a free copy of this book.
This post contains affiliate links.

Synopsis
What would you do if you woke up to the question "Where is your husband?"
As you lay in a hospital bed, unsure of how you got there, would panic or denial hold you in that moment? And what if the people asking you that question repeatedly were Government Agents who should have no interest in your missing spouse?
All of this is faced by Paige Hanson when she wakes up in hospital after an accident she can't remember. Her husband Leo hasn't been seen since the night before and try as she might, she can't remember their last conversation.
Having had a photographic memory since early childhood, Paige now finds her memories hazy, unpredictable and confusing, and yet is willing to do whatever it takes to find Leo and bring him home – even if that means turning to the one person she swore never to rely on. All she has to go on is her gut instincts and the last two words that Leo secretly left behind.
But as Paige comes to terms with what is happening around her, she is suspicious of those interested in Leo and his disappearance.
In order to protect Leo, Paige is determined to uncover the truth and find out why this message had to be hidden. But once she starts on this murky road, is it too late to turn back or will it change the course of her life forever?
The Diseased is the first in a series of books featuring our protagonist Dr. Paige Hanson from author SM Thomas. The book is a psychological sci-fi thriller with hints of dystopian, set on an alternative Earth called Earth 2 after a disaster on planet Earth.
The book begins with Paige waking up in a hospital bed and everyone wanting to know where her husband is. Unfortunately, Paige can't remember which annoys those wanting the answer including her mother-in-law. What she does know is that the car they were travelling in plunged into the water and that she and their young baby managed to get out.
Throughout the book, Paige vows to discover the truth at any cost.
The Diseased is a complete mix of genres. When I began the book I had no idea it was set on an alternative earth and to be honest not a lot is said of what happened to Earth (the original) or the new planet that the humans inhabited except that it already had others living on it and battles occurred and now peace is upon them though there are government rules in place for everyone (can't say too much without spoilers).
For me, I had mixed feelings about this book. There were times when I was completely enthralled and engaged and other times when I just couldn't get into it and found that it dragged. Times when I wanted more information, such as about what happened to Earth and others when it felt like I was given information that actually added nothing to the plot.
One major difficulty I had was with the characters. I just didn't care for any of them. Paige isn't a likeable character – Well not in my eyes, though she is certainly a tough, strong woman who is not about to let others walk over her and she is determined to discover the truth. I just couldn't warm to her or her mannerisms.
Overall, if you love sci-fi/dystopian thrillers then this series would be perfect for you. It contains everything you could want. For me, my journey with this series ends here but I do wish the author the best and I am sure there are plenty of you out there who will love this book.
---
Purchase Online:
SM Thomas
S.M Thomas; or Steph as she's more commonly known, has been writing since she could hold a pencil.
Even at a very young age she had an interest in the other wordly aspect of the written word and could often be found writing about aliens, magic and everything in between.
In 2018 she independently published her debut novel The Light – a dark, dystopian world in which the survivors of the human race are struggling against a foe they can't see.
In 2022 she published The Diseased – a novel that has been described as reviews as a psychological, medical high tech thriller with a dash of sci fi. It follows Dr Paige Hanson as the mystery of her missing husband begins to pull the curtain back on the society, and people, around her.
For now she's concentrating on continuing Paige Hanson's story with Body Count and Maternal Instincts, both due out in 2023.
Author Links:
---
The above links are affiliate links. I receive a very small percentage from each item you purchase via these links, which is at no extra cost to you. If you are thinking about purchasing the book, please think about using one of the links. All money received goes back into the blog and helps to keep it running. Thank you.