Finding Dorothy by Elizabeth Letts – Book Review
Finding Dorothy by Elizabeth Letts – Book Review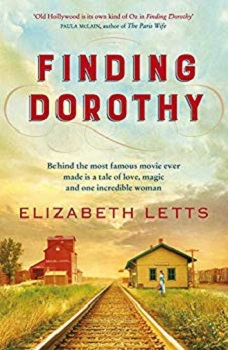 Finding Dorothy
Author – Elizabeth Letts
Publisher – Quercus
Pages – 368
Released – 4th April 2019
ISBN-13 – 978-1529403442
Format – ebook, paperback, hardcover, audio
Reviewer – Stacey
Rating – 4 Stars
I received a free copy of this book.
This post contains affiliate links.
Behind the most famous movie ever made is a tale of love, magic and one incredible woman.
Hollywood, 1938: As soon as she learns that M-G-M is adapting her late husband's masterpiece, The Wonderful Wizard of Oz, for the screen, Maud Gage Baum sets about trying to visit the set.
Nineteen years after Frank's passing, Maud is the only person who can help the producers stay true to the spirit of the book – because she's the only one left who knows its secrets…
But the moment she hears Judy Garland rehearsing the first notes of 'Over the Rainbow', Maud recognizes the yearning that defined her own life story, from her rebellious youth as a suffragette's daughter to her coming of age as one of the first women in the Ivy League, from her blossoming romance with Frank to the hardscrabble prairie years that inspired his famous work.
With the young actress under pressure from the studio as well as her ambitious stage mother, Maud resolves to protect her – the way she tried so hard to protect the real Dorothy.
The 1939 film The Wizard of Oz is one of my all-time favourite classic movies. I've always been in awe at how a film from the era it was made in was done so spectacular and with a great cast, including Judy Garland.
With this in mind when I heard about the book 'Finding Dorothy' I just had to read it. The book reads like part biography and part story, although all the book is fictionalised, Elizabeth Letts has stuck to the facts when it came to Maud Baum's earlier life and her marriage to L. Frank Baum – the author of The Wonderful Wizard of Oz. You can tell how much research and dedication went into this book, as well as how much of a joy it must have been to write.
The plot moves back and forth between Maud's earlier life starting as a child and watching her grow into a strong young woman. The daughter of a suffragette and well educated. She gave up her education to be with L. Frank Baum. The book follows their life together through poverty and riches. In other chapters, we get to be witness to Maud Baum as she offers her help to M.G.M as they film an adaptation of her late husband's book and she takes young Judy Garland (Dorothy) under her protective wings.
The book is completely fascinating and brought to the forefront information on a woman I only knew by name. She had an extraordinary life, even before she met L. Frank Baum. Whilst I enjoyed getting to know Maud and her past, at times these sections felt slow and they were far longer chapters than the ones set in 1938. The later years chapters were the ones that I completely adored and were fascinated by.
If you love The Wizard of Oz movie or the children's books series (yes there are multiple books featuring Oz), then this novel would be just perfect for you. It is eye-opening and brings you into the life of a woman who lived such a remarkable life. You also get to hear all about the famous movie being made and the lives of the actors too – even if it is a work of fiction it felt so real.
Reviewed by Stacey
---
Purchase online from:
---
About the Author

ELIZABETH LETTS is an award winning and bestselling author of both fiction and non-fiction. The Perfect Horse was the winner of the 2017 PEN USA Award for Research Non-fiction and a #1 Wall Street Journal bestseller. The Eighty-Dollar Champion was a #1 New York Times bestseller and winner of the 2012 Daniel P Lenehan Award for Media Excellence from the United States Equestrian Foundation.
She is also the author of two novels, Quality of Care and Family Planning, and an award-winning children's book, The Butter Man. She lives in Southern California and Northern Michigan.






---
The above links are affiliate links. I receive a very small percentage from each item you purchase via these link, which is at no extra cost to you. If you are thinking about purchasing the book, please think about using one of the links. All money received goes back into the blog and helps to keep it running. Thank you.
Blog posts straight to email via Bloglovin – Like us on Facebook – Follow us on Twitter