How to be a Vigilante by Luke Smitherd – Book Review
How to be a Vigilante by Luke Smitherd – Book Review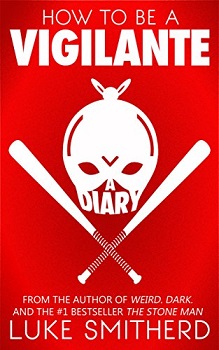 How to be a Vigilante: A Diary
Author – Luke Smitherd
Publisher – CreateSpace
Pages – 294
Release Date – 12th September 2016
ISBN-13 – 978-1537539539
Format – ebook, paperback, audio
Reviewer – Abby
I received a free copy of this book
Post Contains Affiliate Links

In the late 1990s, a laptop was found in a service station just outside of Manchester. It contained a digital journal entitled 'TO THE FINDER: OPEN NOW TO CHANGE YOUR LIFE!' Now, for the first time, that infamous diary is being published in its entirety.
It's 1998. The internet age is still in its infancy. Google has just been founded. Eighteen year old supermarket shelf-stacker Nigel Carmelite has decided that he's going to become a vigilante.
There are a few problems: how is he going to even find crime to fight on the streets of Derbyshire? How will he create a superhero costume – and an arsenal of crime-fighting weaponry – on a shoestring budget? And will his history of blackouts and crippling social inadequacy affect his chances?
This is Nigel's account of his journey; part diary, part deluded self-help manual, tragically comic and slowly descending into what is arguably Luke Smitherd's darkest and most violent novel.
What do you believe in? And more importantly, should you?

So, please note: immediately after finishing this book, I was stunned into silence for a good few minutes or so. Why? Because, in all honestly, it's a book like nothing I have read before. The latter half of the book genuinely shocked me.
But first, let's start at the beginning. It's Thursday August 6th 1998 and Nigel begins writing his diary on his laptop (These newfangled laptop computers in the home, in 1998?!). He begins to outline the why's and the wherefore's of his diary, which is 'to show you how I think… so you can know that I was an ordinary person like you'. There, my interest is suddenly piqued – 'was' an ordinary person? What's happened? What will happen? Has he unintentionally predicted his future?
It's clear from then on I'm going to go on a journey with Nigel. But where will it take me, why is he going, and will I actually like him? I can safely answer the last question – not particularly. He's not pure evil, but his narration, despite leaving in the mistakes, is highly unreliable. He thinks a lot of himself and his abilities, which becomes more obvious as he begins to go to gym – all kitted out, of course – to build his strength; he's furious that his trainer, Rob, won't up the weight so does it himself and leaves feeling very sore indeed. Classic case of 'all the gear and no idea'. Worse, he convinces himself this pain is good. It's given him motivation to prove a point.
As it continues, this 'all the gear…' idea gets even more prominent as he joins Aikido classes – again frustrated with the class leader, for not showing him all the moves, ignoring the fact that it takes time to learn a martial art from scratch. Nigel's attitude here is laughable; every time he complains about the slow speed of progress, he becomes physically weaker and skinnier in my mind. Smitherd does make Nigel's narration very funny indeed.
Regardless, he carries on with his training, documenting his 'progress', training plans and goals in his diary. The purpose of the training? To roam the streets and save innocent people from bullies. Or, put simply, become a superhero. Wear the 'gear' and have some 'idea'. He takes real pleasure in creating his superhero costume, revelling in the power to construct this new identity, complete with a new name – he settles on the fear-inducing 'The Night Man' (!). As he says, he wants to lose his human identity in this new role: 'I will be not just a vigilante, but a symbol… I will be a superhero'. He wants to lose himself, geeky, lonely, skinny supermarket worker Nigel, wondering 'if I will eventually become someone else when I put the costume on'.
At this point, he also makes his first connection with his so far absent father, wearing a leather coat that used to belong to him. This right of passage of sorts means a lot to him: 'I would be going into my war wearing my FATHER'S COAT. The costume, the garb of my mission belonged to my father before me!'
As it turns out, though, this new identity isn't really far removed from the real Nigel at all. He does witness a few nasty incidents at night, and manages to attack with his 'Man Marker' spray and nightsticks, but ultimately he is left badly injured each time, unable to truly defend himself. This is something that slowly dawns on Nigel himself.
Going back to the reference to his father, we learn quite late in that his father is absent because he's in prison, for killing a little boy in a hit-and-run accident years ago. As Nigel's story progresses, it becomes painfully clear that he is damaged by this and ashamed of his father's actions. It's an extraordinary family history and one that Nigel's creation of the Night Man showed that he didn't want to repeat. He wanted to cultivate something positive from his own experiences and make amends for the mistakes of his father.
Then, CRASH! We're about three-quarters through the book and How To Be A Vigilante becomes a whole new book. Things pick up a pace and take an unexpectedly sinister turn as Nigel introduces his 11-year-old brother, David, to the streets with him. Even thinking about bringing an 11-year-old along made me feel uncomfortable, knowing Nigel's poor track record. The reality was much, much worse. History does repeat itself as David gets caught up in an attack. I really, really don't want to spoil this sensational ending, but how Nigel deals with the fallout is horrific, shocking and calculating. I really must leave it there!
If you want something that will make you question what it is to be human, and will make you actually gasp and wince, then I'd definitely give How To Be A Vigilante a read! It is slow to start, and you have to rely on a voice that's really not that likeable, but once you learn about Nigel's family history, it all starts to make sense…
Book Reviewed by Abby
Purchase Links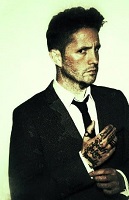 Born under a Derbyshire sky, to the sounds of a doctor saying "I know they all look bad fresh out of the oven, but bloody hell…"
Professional writer; singer and guitarist, darts enthusiast, workaholic suffering from chronic procrastination (conflict!), comics nerd.
If you like my stuff, please leave a nice star rating, and tweet/post a status about it. You'll be doing me a bigger favour than I can say, and it'll mean the work keeps coming. Thanks for reading.
Author Links
www.lukesmitherd.com
@lukesmitherd
Facebook
YouTube
Goodreads