At Home in the Bushes by Thompson Crowley – Book Review
At Home in the Bushes by Thompson Crowley – Book Review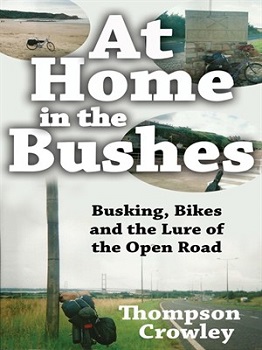 At Home in the Bushes
Author – Thompson Crowley
Pages – 154
Release Date – 13th November 2016
Format – ebook
Reviewer – Jill
I received a free copy of this book
Post Contains Affiliate Links

At Home in the bushes is about a year I spent living in a tent, cycling, wild-camping & busking up and down the north-east coast of Britain.
After my first taste of living on the road (in a van) I was quite desperate to get back on it, but with no money or vessel I was without means.
Finally opportunity came in the form of an old bicycle lying in a ditch. I dragged it out, tied a few things to it and set off north into the towns, woods, hills, coastlines which were above, and the adventures which followed…

Don't you like having a peek into someone else's life? I certainly do. In, At Home in the Bushes, Thompson Crowley writes about the time when, homeless, he drifted up England's east coast on his broken down bicycle, all his bundled possessions tied on behind him.
Camping in thickets, dossing down with friends, Crowley's great passion is music, and with his guitar, he earns his way by busking.
Sleeping rough can be frightening — you never know if you've put yourself at terrible risk — but there's beauty in waking in misty fields, surrounded by ancient trees, shy rabbits, deer and birds. And although the generosity of friends isn't limitless, taking responsibility for your own life is an exhilarating experience.
If you're not fussy about grammar and some awkward vocabulary, this is a delightful and touching read. And I wish Thompson Crowley many happy journeys.
Book Reviewed by Jill
Purchase Links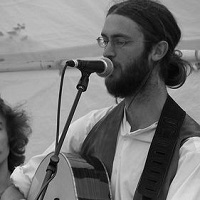 I was blessed as a child with a big garden and a mum that worked in a bookshop. That, along with many trips up to Scotland, fed my creativity. I started writing at a young age: poems, songs, stories, tales; and eventually I got quite good at it.
After finishing school I left the Lincolnshire town where I'd grown up, and moved up to Edinburgh; taking with me an old guitar someone had lent me, and a handful of chords which my big brother had shown me. And I soon got the hang of it, knocking up song after song to pass the time.
I then moved back down to Lincolnshire and teamed up with fellow songwriter Luke Morgan and started performing. Both of us agreed that there wasn't much going on in those there parts, so we put our pounds together and bought ourselves an old, rusty campervan; in which we began travelling, busking & gigging around the country.
My life continued in that fashion from there on out. I just couldn't stay still. The wandering lifestyle had got a hold on me. And in tents, more vans, on bicycles, with prams, buggies, bags, I continued for years to roam the British countryside; singing in every town that I passed.
Author Links