Paperscapes Children's Information Books – Book Reviews
Paperscapes Children's Information Books – Book Reviews
Today we have a review with a difference. Below you will find not one but four reviews for children's non-fiction books from Carlton Books Ltd. At the bottom of the page, you will also find a giveaway contains a set of the four books. You can find out how to enter at the bottom of the page.

In this 'The Amazing World of Animals' book you will find twenty-nine different animals from around the world to learn about. Some might soar high in the sky like the Hyacinth Macaw and Steller's Sea Eagle, whilst others swim in our seas, rivers or oceans such as Peter's Elephantnose Fish or the Blue Ringed Octopus.
You will find a whole arrangement of animals some you will be familiar with, others not so much. Each animal covers a double-sided page and includes information about the animal, it's lifespan, food it eats, conservation status, and wherein the world you can find it – On a handy little map. There is also a useful and informative 'Did you Know?' section for each one too.
What is fascinating about this book is that it is not just a book to flick through and find out about each of the animals, it is also a book to get creative with. Each of the animals pops out to make a handy animal parade. Younger children will need an adult to help them remove the card from around the animals so that they don't rip the pictures.
This book was very informative, wonderfully illustrated and had the added bonus of being able to turn the book into an animal parade too, not something I've seen in a book like this before.
This is more of a book for those that want to learn about animals but don't want to have to go through pages and pages of information on them. I loved it and I'm sure kids will too.
Reviewed by Stacey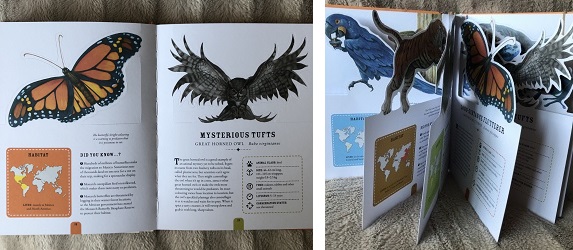 Purchase online from:
---

The Incredible World of Bugs is a fascinating book that I am sure all kids will love, as all the ones that I know are interested in creepy-crawlies and love to watch them slither, scuttle, and crawl about.
Just like the book on animals, this book showcases twenty-nine different types of bugs and again some I knew very well, others I'd never heard of that particular species. From Blue-Spotted Hawkers who are the fastest and most powerful flying insects to the Lantern Bug which may be colourful and look strange but given their name, they don't even light up.
Each double-sided page gives you an interesting write up on each insect including their size, what food they eat and even their danger level. Once again there is a handy map showing the world and where each animal lives plus a 'Did you Know?' section too.
This book also turns into a work of art just like the animal book, as you can remove the excess cardboard from around the insects to create your own insects on parade. Make sure younger children have a grown-up to help them as you don't want any pages ripping.
This book is just adorable. I love the artwork and the snippets of information about each of the varied and colourful insects. I certainly learned a lot and kids will too.
Reviewed by Stacey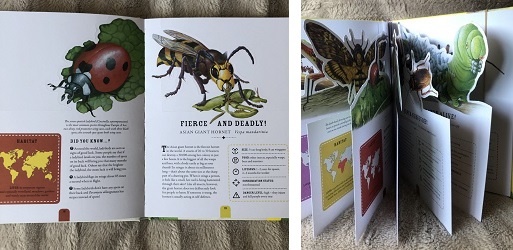 Purchase online from:
---

Just like the other Paperscape books, The Fearsome World of Dinosaurs is filled with twenty-nine different dinosaurs. From those that were killers to those that preferred more of a vegetarian diet, the herbivores.
Each double-sided pages contains one dinosaur. There is information about that particular dinosaur, plus a handy note on how to pronounce its name. There is a map which shows you where each of the different dinosaurs lived as well as how long ago they lived, what period in time they roamed the earth, how big they were, what they ate and what their name actually means, such as Archaeopteryx means Ancient Wing, because when the dinosaur was found it was the oldest known bird. There is also the 'Did you know?' section available for each dinosaur too.
I have to say that I know the more common dinosaurs but some like the Pentaceratops or Struthiomimus, I'd never heard of before, so I learned a lot whilst reading through this beautifully illustrated book.
Again the book can be turned into a work of art in a dinosaur parade by popping out the bits of cardboard from around each dinosaur, make sure an adult helps younger children so that they don't ruin the book by ripping the pages.
Another great book from Carlton Books that I can see all those dinosaur fans loving.
Reviewed by Stacey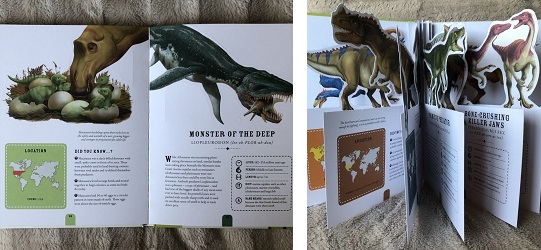 Purchase online from:
---

Moving away from the theme of animals, this book covers all things to do with space and space travel. Inside The Spectacular Journey into Space, you will discover how old scientist thing the universe is and how it was created.
Each double-sided page, of which there are twenty-nine of them, is all about a different aspect of space or space travel, starting with the Sun and then moving onto the planets. Inside there is also information on The International Space Station, The Lunar Module, and different space corporations and missions.
The book will be adored by all those space fans out there as they learn about varied topics but all to do with space. Just like the other books as well as the information and 'Did you Know?' sections the pages also have cardboard sections that pop out to make the book into a work of art. Again make sure an adult helps with the removal of the cardboard.
Due to the nature of the book, I feel that this one is for slightly older children than the other three books from Paperscape I have reviewed. Some of the information is a little more complex and I'm not sure little children would understand it fully.
It contains some amazing artwork and looks spectacular. This is a must book for all those children who have a love for space and space travel.
Reviewed by Stacey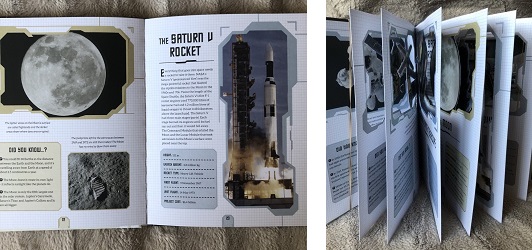 Purchase online from:
---
The above links are affiliate links. I receive a very small percentage from each item you purchase via these link, which is at no extra cost to you. If you are thinking about purchasing the book, please think about using one of the links. All money received goes back into the blog and helps to keep it running. Thank you.