Until Someday by E.S. Ready – Book Review
Until Someday by E.S. Ready – Book Review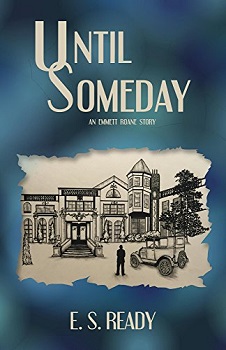 Until Someday


Emmett Roane Book One
Author – E.S. Ready
Publisher – CreateSpace
Pages – 240
Release Date – 22nd July 2016
ISBN-13 – 978-1534884090
Format – ebook, paperback
Reviewer – Clive
I received a free copy of this book
Post Contains Affiliate Links

The year is 1927 and professional boxer Emmett Roane is losing his grip on reality. His career is faltering, memories of a lost love haunt him and the horrors of the Great War muddle his mind. Emmett's past is hobbling his future, and no amount of booze or knockout blows can ease his painful memories.
Seeking solace in the place where he and his Anna had once been so happy, Emmett leaves Brooklyn for a few days alone in Newport at the gilded waterfront Hermann Hotel. During a fateful weekend as he tries to make peace with his ghosts, Emmett crosses paths with Maude Mable, a lively beauty with secrets of her own. But they soon learn the luxury hotel also hosts Luther Irvin, an opium-addicted mobster who is as violent as he is desperate.
When Emmett and Maude discover Luther's hideous plan to wage war on a rival gang, the pair is thrust into a deadly match of wits and force. His back against the ropes, Emmett finds his quest for self-restoration has become a mission of survival—for him, Maude and everyone at the Hermann. Can Emmett Roane, a fighter who desperately seeks an elusive peace, halt the embodiment of evil while finding a way to heal his own heart and mind?

This book is set in the late nineteen twenties and E S Ready has managed to give it the feel of a cheap gangster novel written at that time.
Although the story-line is fairly simple it moves at a pace and is very easy to read. The initial action is set in a boxing ring and moves to an upmarket beach hotel where we are treated to lively descriptions of how people with money partied during Prohibition in the USA.
Interestingly the author mixes the perspective by writing Emmett's story in the 1st person and the action away from him in the 3rd person. At first this was a little disconcerting but the 1st person sections helped to engender a strong atmosphere.
Most of the characters were stereotypical of the genre and apart from Emmett I found them fairly thin. Mabel seems a little too good to be true. She appears to have secrets of her own which I was waiting to discover but having completed the book I am none the wiser.
The final page suggests that Emmett Roane will return and why not? The character and the setting offer plenty of possible story lines and provided E S Ready can repeat the atmosphere and action there should be more good books to come.
I am pleased to give Until Someday four stars.
Book Reviewed by Clive
Purchase Links