Traumata by Douglas Renwick – Book Review
Traumata by Douglas Renwick – Book Review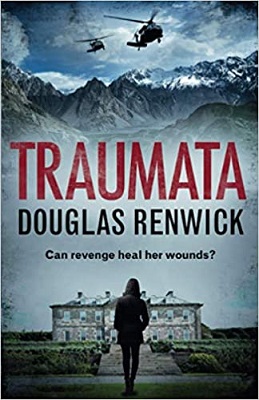 Traumata
Author – Douglas Renwick
Pages – 416
Released – 9th September 2020
ISBN-13 – 979-8683430184
Format – ebook, paperback
Review by – Linda
Rating – 5 Stars
I received a free copy of this book.
This post contains affiliate links.


In Khuh Tabar, in the foothills of the Hindu Kush, a young Englishwoman witnesses a war crime in which her loved-ones die. In 2019, she returns to England, bereaved and broken. When she discovers the identity of the man who murdered them, her grief turns to rage.
Her psychiatrist advises her to seek solace from an on-line bereavement support group. One of them suggests she kills the man. Should she honour the ancient code of the Pashtuns and avenge their deaths, risking a life sentence for murder? Or abide by the laws of her homeland and live with her anger forever?
When the killer is found dead, the police question her. She turns to her father for help.

Bereaved, broken, and suspected of murder. Can her father save her from a life sentence?
Traumata is a completely unusual story, but one which I loved and couldn't get enough of. Douglas Renwick, the author of this fabulous thriller, has gone above and beyond with the plot. It far outreaches most people's imagination. It includes a harrowing trial, life in a war zone, and even a splash of romance as one young woman, Dr Melanie Green, is accused of murder and a father who will stop at nothing to prove her innocence.
All the characters are well described and come across as real. My favourite character was Melanie's father Michael, he became my hero. Any parent would put themselves in his shoes to go to the end of the world for their child. I loved it when Michael met bowler hat, suited and booted Jim!
The plot was amazing. It kept me hooked all the way through and I especially loved all the twists and turns that kept on taking me in different directions. It also touched all of my emotions throughout. The book was just perfect the whole way through and had a brilliant ending too.
Douglas Renwick is an excellent storyteller who has good use of language and knows how to add attention to detail. I really got caught up with the drama and the emotion of the trial. This is a story that will stay with me.
This is a high recommendation from me for Traumata. One powerful read which will keep you guessing until the very end.
Book Reviewer – Linda
---
Purchase online from:
---
About the Author

Brought up in South East England, went to the Royal Military Academy Sandhurst and commissioned into the Royal Engineers. Achieved an MA at Cambridge University in Mechanical Sciences and in Economics. Served for 25 years then set up a company restoring and renovating old houses before retiring to write and ski.
He has four children, ten grandchildren and four grand-dogs, and divides his spare time between West Kent and the French Alps. (Please note my pen name is Douglas Renwick, my two middle names.)

---
What did you think of Traumata? Share your thoughts in the comment section below!
---
The above links are affiliate links. I receive a very small percentage from each item you purchase via these link, which is at no extra cost to you. If you are thinking about purchasing the book, please think about using one of the links. All money received goes back into the blog and helps to keep it running. Thank you.
Like us on Facebook – Tweet us on Twitter – Pin us on Pinterest