Melody Finch by Ian Boyd & Gary Luck – Book Review
Melody Finch by Ian Boyd & Gary Luck – Book Review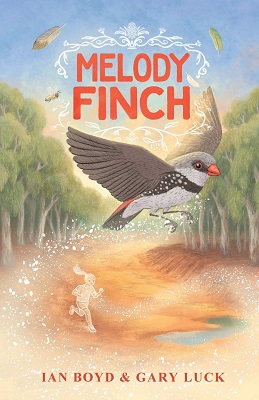 Melody Finch
Author – Ian Boyd & Gary Luck
Publisher – Spirit of the Earth Books
Pages – 233
Released – 2nd October 2020
ISBN-13 – 978-0648905707
Format – ebook, paperback
Review by – Stacey
Rating – 4 Stars
I received a free copy of this book.
This post contains affiliate links.


Melody Finch is a story about the hardships of drought in Australia's Murray Darling Basin river system, as seen through the eyes of its native wildlife.
When Melody Klomp turns into a Diamond Firetail Finch, she learns from a secret network of frog spies that big rains are coming. An amazing journey begins from Charleville in Queensland to the Coorong in South Australia, so Melody can tell her Nana of the incoming rains before she sells her beloved tour boat, The Isabella. Along the way, Melody meets many wonderful birds, frogs, seals, and even a platypus.
At the end of her journey, she and her network of bird friends must fight together to defeat an evil net fisherman and his pet osprey, Silverclaw, to protect the future of all animals living in the Coorong.

Every year Melody Klomp and her family travel from their home in Charleville, Queensland to Coorong in South Australia to visit her Nana Bell. Melody loves visiting her and has a wonderful time on board her boat, 'The Isabella' on which she takes tourists out on the Coorong river to see the wildlife. Her Nana always has wild stories to tell her, including ones about humans turning into animals.
Droughts have hit Australia badly and when Melody returns home she learns that her Nanna Bell may have to sell her boat as the tourists are not coming and the water is drying up in places. Melody is upset, she just hopes that the rain will arrive soon.
Then one morning a flash of lightning hits nearby and Melody suddenly realises she has become a Finch. She is understandably scared but she comes across two frogs who tell her they are spy frogs and that the big rains are on the way. Melody decides she needs to get this information to her Nana and stop her selling her boat, but how can such a small bird fly all that way, especially as she doesn't even know how to get there? Plus, Nana has her own problems to deal with as a nasty fisherman is after ruining her and all the animals living in the Coorong too.
Melody Finch is a lovely book about a young girl who becomes a bird and her adventure trying to get to her Nana Bell. Along her journey Melody encounters many different creatures, some needing her help.
The book is not only a sweet read but it educates children too on nature, climate change, and saving the species whilst we still can. It is perfect for children who want to learn more about the eco-system and for budding environmentalists.
The story is a wonderful read that's not just about educating children regarding nature, it is also about the strength and determination of one young girl and the amazing friends she meets along her journey. There is a lot of humour within the pages that will give children a good giggle. Fast-paced, exciting, and poignant this is a book that should be in every school library.
Book Reviewer – Stacey
---
Purchase online from:
---
About the Author

Ian Boyd is the author of YA novel, Madilla-The Spirit of U'Katang. He was shortlisted in the Elyne Mitchell Awards for a story entitled Lydig and Shinko, and in the Goodreads SIA Murder Mystery Competition for his short story The Cerulean Rose. In the early 90s, he owned and operated the SA franchise of The Kangaroo Creek Gang Roadshow for 2 years, educating preschool and primary school students about native Australian animals.

Dr Gary Luck is Adjunct Professor of Ecology and Interdisciplinary Science at Charles Sturt University, and has nearly 30 years' experience researching Australian wildlife. He's published over 150 scientific papers, book chapters, reports and general articles on environmental management in Australia and globally. His other published works include the epic fantasy When Darkness Descends (published as G. W. Lücke).



---
What did you think of Melody Finch? Share your thoughts in the comment section below!
---
The above links are affiliate links. I receive a very small percentage from each item you purchase via these link, which is at no extra cost to you. If you are thinking about purchasing the book, please think about using one of the links. All money received goes back into the blog and helps to keep it running. Thank you.
Like us on Facebook – Tweet us on Twitter – Pin us on Pinterest