In the Land of Broken Time by Max and Maria Evans – Book Review
In the Land of Broken Time by Max and Maria Evans – Book Review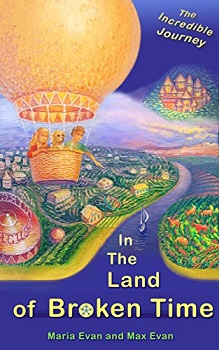 In the Land of Broken Time


The Incredible Journey
Author – Max and Maria Evans
Pages – 52
Release Date – 2nd August 2016
Format – ebook, paperback
Reviewer – Stacey
I received a free copy of this book
Post Contains Affiliate Links

This book is about the adventures of a boy named Christopher, a girl named Sophia and a retriever named Duke. By chance, they find themselves in a balloon that takes them to a fairyland where mysterious events happen. The children want to find the way home, but first they have to solve a lot of mysteries.
This is a story about the different ways of measuring time and about friendship. In this book there are many facts about the animals that never get old and about how to construct different clock: not only mechanical, but also sundials, water clocks, hourglasses, aromatic clocks…

The circus has arrived in town and Christopher is eager to go and watch it. However, having had the week off school sick, his mum has forbidden him to go.
One night Christopher decides to sneak out and go and watch it. When he gets there he realises that he hasn't got a ticket, so he tries to evade the staff, but is caught. That is until a young girl, Sophia, causes a diversion and the two manage to get in for free.
Whilst sat at the back, out of sight of the public, the two are enjoying the show, until they are approached by an old woman that they think is a witch. They run outside to get away from her and hide in a hot air balloon basket. However the 'witch' follows them, so Christopher unties the balloon and they fly off into the sky.
When they are up in the air, they realise that there is someone or something else in the basket. Turns out that there is a talking dog named Duke with them.
Eventually managing to land the balloon, they find themselves in a mysterious land. How will the three of them ever manage to return home?
In the Land of Broken Time, is a children's book written by Russian husband and wife team, Max and Maria Evans, and has been translated into English.
The story sounds like it would be really interesting and fun, and it is, but I did come across some problems with it. Firstly, there are only a few small pictures in the book. Now being a children's book, I tend to expect more of them – they certainly make stories more interesting.
Secondly, the author has decided that rather than call the two children by their names throughout, they do quite often just become 'The Boy' and 'The Girl'. Given that this book has been edited by a professional English speaking editor, this inconsistency should of been picked up.
Lastly, there are a few times when similes were used, when they really didn't need to.
If these couple of kinks were sorted, this could be a wonderful children's book. In its current format, I feel that children may get fed up with it part way through.
Book Reviewed by Stacey
Purchase Links