The Writing Life of: Karen Moore
Karen Moore
This week I am thrilled to be interviewing author Karen Moore. Karen will be sharing with us details of her writing life, telling us all about her book 'Torn', which was released on 29th October 2019, and answering a few fun questions too. This post contains affiliate links.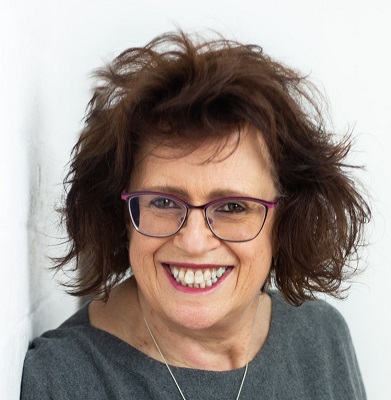 Karen Moore is passionate about all things noir – crime, mystery, thrillers – and writes in that genre.
She has been writing all her life, mostly for work purposes, and is now delighted to be able to spend more time developing her own creative work.
Her debut novel, Torn, is a dark tale of intrigue and betrayal set in Sicily and North Wales. She is currently working on the sequel.
Karen worked as a tour guide across Europe, North America and Canada, followed by a career in PR and marketing. She has lived in France and Italy and is now based in Cheshire, England.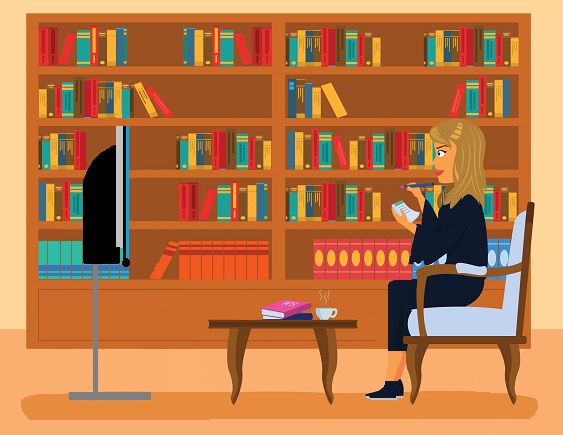 1) Did you enjoy writing when you were a child?
Absolutely! Before I was old enough to have adventures of my own, I'd just make them up in my head and jot them down on paper. My early scribbles were inspired by my father's tales of his travels across the world in the Merchant Navy. As an only child, I had more than my fair share of imaginary friends who often became the characters for my stories.
2) Which author shaped your childhood?
I liked mystery, adventure, and anything to do with animals. Arthur Ransome's Swallows and Amazons, Enid Blyton's Famous Five and Secret Seven books, The Secret Garden by Frances Hodgson, Michael Bond's Paddington bear stories, and A A Milne's Winnie the Pooh were among my favourites.
3) What motivated you to begin your first novel?
When I started writing Torn, I didn't set out to write a novel. I just had a germ of an idea that simply grew and grew.
4) Do you plot your book, or are you a pantser?
Torn developed very organically from my initial concept. I had a vague idea what might happen and several possible endings. In the end, it took on a life of its own as more ideas kept coming as I was writing.
In a way I'd like to be more structured, but it's the creativity about writing that I find so exciting. If I plotted everything in advance and stuck to that plan, where would be the joy in that?
5) What is your average writing day?
I've found the past year with the pandemic quite difficult. Confining yourself to being at home with lots of time on your hands doesn't always mean that you're motivated and productive as a writer. I find that writing in shorter spells – say a morning or afternoon –works better for me than dedicating a whole day to writing.
6) What is the best thing about being an author?
I love the creative process: developing an idea into a story and creating your own imaginary world for others to enjoy.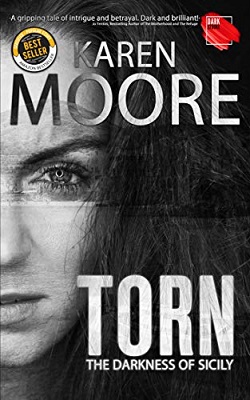 Torn
Author – Karen Moore
Publisher – darkstroke books
Pages – 267
Release Date – 29th October 2019
ISBN 13 – 978-1692815615
Format – ebook, paperback
Synopsis
Like any mother, Hanna would do anything to protect her small daughter, Eva.
When she discovers that her husband, Luciano, is not all he seems and their blissful life on the island of Sicily is threatened, she wastes no time in seeking refuge abroad. But just as they are settling into their new life in North Wales, Eva disappears.
In a race against time, Hanna is forced to return to Sicily and face the dark world of organised crime in a bid to secure her daughter's safe return. She must also confront the truth about Luciano's business dealings and their horrific consequences.
But will Hanna succeed in getting Eva back and bring Luciano to justice? Or are the stakes just too high?
Purchase Online From:
7) How did you go about researching the content for your book?
The original idea for Torn, a thriller set against a backdrop of people-trafficking across the Mediterranean Sea, came from a series of news reports on the situation. The media continued to be a useful source of background information throughout the writing of the book, along with my own experience of living and working in Sicily.
8) How long did it take to go from the ideas stage to writing the last word?
Torn took quite a while to come to fruition. When I started writing it, I was working full-time. It was only when this situation changed that I was able to dedicate more time to writing and the pace picked up.
9) What made you choose the genre you write in?
I have always been an avid reader of thrillers and crime fiction, especially those in atmospheric settings, so it seemed natural to write in that genre. Write something that I'd like to read!
10) How did you come up with the name(s) for your lead character(s)?
For the main protagonist, I wanted a very English name and Hanna just seemed to speak to me.
11) Can you give us an insight into your characters?
Hanna is an idealistic young English woman who works as a tour guide and falls in love with Sicily. She is elated when she meets a charismatic local businessman whom she marries and has a little girl with. But when she discovers that her husband is not what he seems, her idyllic life is shattered. Determined to protect her small daughter, Eva, at all costs, she has to grapple with some difficult decisions about her and her daughter's future.
12) How did you feel when you had completed your book?
I felt a real sense of achievement, but also sadness as I'd had such fun writing it and didn't want to let go of my characters.
Fun Questions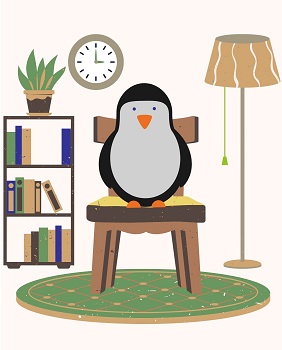 1) Do you have a favourite quote you live by?
It's more of an aphorism than a quote: Carpe diem, which I interpret as live each day to the max.
I have a feisty tortoiseshell/tabby cat called Lexi who loves to waltz across the keyboard, writing her own feline gobbledygook and ruining whatever it is I'm trying to write. If this fails to distract me, she'll fall asleep in a big heap on my lap.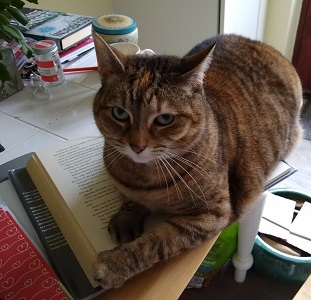 3) What's on your current reading list?
Loads of thrillers and crime fiction. My reading list just gets longer as my favourite authors bring out new books and I discover new writers. I keep reminding myself to read more classics and literary fiction.
4) Your book has been made into a feature film, you've been offered a cameo role, what would you be doing?
Probably not a lot – maybe sitting in the background in a Sicilian trattoria on a terrace overlooking the sea, glass of wine in hand, being served a sumptuous plate of fresh seafood.
5) If you could travel to the fictional world of any book for the day, which would you choose?
I'm very drawn to the world of the Bronte sisters and their novels set in the desolate Yorkshire moors and their gothic characters.
6) There's a penguin sitting in your writing chair, what is the first thing he says to you?
"Here's your next writing challenge – make me into a key character in your next book."
---
I would like to say a big thank you to Karen Moore for sharing with us details of her writing life and for a wonderful interview.
Author links



---
Share your thoughts on our interview with Karen Moore in the comment section below!
---
The above links are affiliate links. I receive a very small percentage from each item you purchase via these link, which is at no extra cost to you. If you are thinking about purchasing the book, please think about using one of the links. All money received goes back into the blog and helps to keep it running. Thank you.
Like us on Facebook – Tweet us on Twitter – Pin us on Pinterest