The Writing Life of: Nikki Rae
Nikki Rae
This week on 'The Writing Life of:' I am thrilled to be interviewing author Nikki Rae. Nikki will be sharing with us detail of her writing life, telling us all about her latest book 'The Crow Box', which was released on 15th January 2016, and answering a few fun questions too. This post contains affiliate links.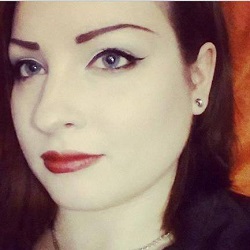 Nikki Rae is an independent author who lives in New Jersey. She explores human nature through fiction, concentrating on making the imaginary as real as possible.
Her genres of choice are mainly dark, scary, romantic tales, but she'll try anything once. When she is not writing, reading, or thinking, you can find her spending time with animals, drawing in a quiet corner, or studying people. Closely.
---
1) Do you remember the moment you decided that you would like to become a writer?
Absolutely not. Haha. I think I just always loved telling stories and then later I loved writing them down. Sometime in my first year of college, I decided I wanted to be an author, but I knew that even if I never "made it" I would still write for myself no matter what my profession ended up being.
2) How did you go about following your dream?
The typical route. I wrote a book I thought was amazing, tried querying it for a LONG time to agents to get it published. Then when that didn't work, I started looking into self-publishing and found a lot more success down that road.
3) Is there a particular author that inspires you?
I have SO MANY. I love Neil Gaiman, Anne Rice was my first love, and I really like anything with an interesting take on an idea or an author who creates real characters. But those are definitely my top two.
4) What is your average writing day like? Do you have any strange writing habits?
I usually work during the day (I have my own editing company) and then once that work is done, I write.
I don't really have a routine, per se. I pretty much turn on a TV show or movie I've seen a thousand times, set a timer for ten minutes, then write as fast as I can before I take a two minute break.
Usually, I can get about 5,000 words or so done if I use that method for an extended period of time…or until I fall asleep.
5) Do you write Longhand, Type writer, Computer?
I use long hand for scenes that pop into my head, or just when I feel like writing by hand with a pen—there's nothing like it. Mostly I use the computer, just because it's the most convenient.
6) From all your books, do you have a favourite character?
Oh man, that's a tough one. I love all of my characters because they have all come out of my head and I feel like they know me better than anyone else ever could.
I have to say, I do love Corbin and Six from 'The Crow Box'. I also have a soft spot for Michael in 'Animal', and Jade from 'The Sunshine Series'.
Pretty much in every book I write, I fall in love with at least one of the characters.
7) Do you plot your books completely before hand or do you let your imagination flow whilst in the writing process?
Nope. I am so bad at plotting. I like writing to be exciting and surprising and I feel like when I write out the plot and know what's going to happen, that takes away from it.
Also, when I don't plot, I think it gives my characters more room to breathe and take the plot where they need it to go.
Concerning your latest book: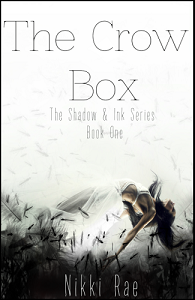 The Crow Box
The Shadow & Ink Series Book One
Author – Nikki Rae
Publisher – Createspace
Pages – 164
Release Date – 15th January 2016
Format – ebook, paperback

The small wooden box is dirty, the size of a human fist, and sealed with wax. When Corbin takes it upon herself to clean it and break the seal, a voice she has tried to ignore gathers strength.
Shadows play on the walls at night, and with a family history of mental illness, Corbin fears the worst. But the voice tells her it is real. That its name is Six and it will prove it in time.
Drawn to this mysterious entity, Corbin isn't sure what to believe and the line between reality and her imagination blurs more every day.
Some doors should not be opened; can this one be closed?
---
8) How long did it take to get from the ideas stage, to the date of publication?
Well, I first had the idea for 'The Crow Box' like I get most of my ideas: I was working on something else.
I was on schedule to write two books before I had time to do anything with it, but once I started writing, it took about six months from start to finish. A lot of my stories simmer for a while so when I finally get to write them, I'm too excited to stop.
9) Did you suffer from writer's block at any stage? How did you overcome it?
Very rarely. Usually, I find that writer's block is just an excuse. I get stuck sometimes, but that's totally different.
I usually work on something else or try to write through it and see what happens. Even if I have to delete what I write, it usually helps clear my head of all the gunk and gets me back on track.
10) How did you come up with the name(s)for your lead character(s)?
Six's name is a secret (hehehe) that you'll get to know more about in book two. However, Corbin's name means "little crow", which you will also get a glimpse of the meaning behind in book two.
11) If your book was made in to a film, who would you love to play the lead character(s)?
Oh wow. I am so bad at these sorts of questions.
I think Six's form is hard to cast just because he…doesn't look exactly human. Lol. But I think Corbin could be played by someone like Felicity Jones, if we're going on looks. Her friend, Jordan could possibly be played by Mary Elizabeth Winestead.
12) Did you get anyone in particular to read your work before sending it to the publisher i.e family member, friend etc?
Oh yes, LOTS of people. I have a friend read it first, then I workshop it with a group of my writer friends.
Once I revise it about 4 or 5 times, I send it to my editor and depending on how much work it needs, I edit it around 2 or 3 more times more.
I am more of an editor-type writer, so the story starts to really take shape when I reach that stage.
Author Links