The Versatile Reptile by Nicola Davies – Book Review
The Versatile Reptile by Nicola Davies – Book Review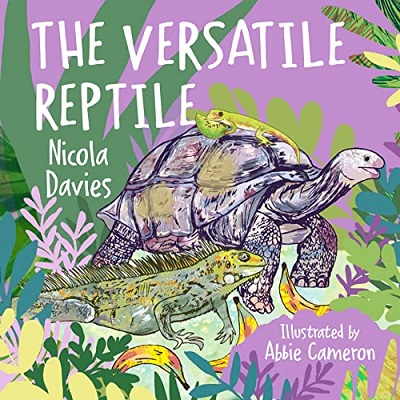 The Versatile Reptile
Author – Nicola Davies
Illustrator – Abbie Cameron
Publisher – Graffeg Limited
Release Date – 21st February 2023
Pages – 36
ISBN 13 – 978-1912213689
Format – ebook, paperback
Star Rating – 4
I received a free copy of this book.
This post contains affiliate links.

Synopsis
When most people think of reptiles, they think scaly, cold blooded and possibly poisonous. But the young adventurer loves reptiles and is rather disappointed that we have so few in the UK. So she goes off round the world to seek out some of her favourites and discover the versatile world of the reptile.
The Versatile Reptile by Nicola Davies is part of a rhyming book series looking at different animals by the author. This book looks at reptiles and where they live, what they eat, etc. It is told mainly in a rhyming style, though I did notice not all paragraphs rhymed.
The book showcases to children that reptiles get a bad reputation and are often feared and yet they are amazing creatures. Some can change colour, glide, and swim. Some have scaly skin and different hues that can make them stand out or camouflage them. They are very versatile.
The book would be perfect for young readers just learning about reptiles as it doesn't go into too much detail but will show them how wonderful reptiles are. I would have liked there to have been a section that covered different types of reptiles rather than just the couple it mentions but from the images and with reading helpers they can work some of them out.
Overall, a lovely introduction to reptiles for young ones. This non-fiction book is written in an easy-to-read style and includes bright and large illustrations throughout to keep the reader entertained and engaged, plus, there is a puzzle to complete at the back for the reader too.
---
Purchase Online:
Nicola Davies

Nicola Davies is an award-winning author, whose many books for children include The Promise (Green Earth Book Award 2015, Greenaway Shortlist 2015), Tiny (AAAS Subaru Prize 2015), A First Book of Nature, Whale Boy (Blue Peter Award Shortlist 2014), and the Heroes of the Wild Series (Portsmouth Book Prize 2014).
She graduated in zoology, studied whales and bats and then worked for the BBC Natural History Unit. Underlying all Nicola's writing is the belief that a relationship with nature is essential to every human being, and that now, more than ever, we need to renew that relationship. Nicola's children's books from Graffeg include Perfect, The Word Bird, Animal Surprises, Into the Blue and the Shadows and Light series: The White Hare, Mother Cary's Butter Knife, The Selkie's Mate, Elias Martin, Bee Boy and the Moonflowers and The Eel Question
Author Links:
---
The above links are affiliate links. I receive a very small percentage from each item you purchase via these links, which is at no extra cost to you. If you are thinking about purchasing the book, please think about using one of the links. All money received goes back into the blog and helps to keep it running. Thank you.