Enemies Closer by Tom Batt – Book Review
Enemies Closer by Tom Batt – Book Review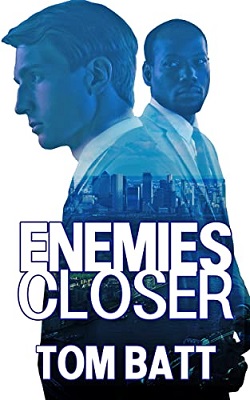 Enemies Closer
Author – Tom Batt
Release Date – 11th April 2023
Pages – 162
Format – ebook
Star Rating – 4.5
I received a free copy of this book.
This post contains affiliate links.

Synopsis
Jaded police detective Mike Palmer has been trying to take down suspected bank robber Donovan Carter for eighteen months. However, this pales in comparison when Mike's ex-wife threatens to take their daughter away to another country and he needs a lawyer to fight her for custody. Mike turns to Donovan for money and is enlisted by him to help pull off his next heist.
Donovan has his own problems too; under the thumb of a dangerous gangster forcing him to perform the heists to pay off a debt and desperate to keep his crimes hidden from his wife. As the former adversaries work together on Donovan's biggest heist to date, they also have Mike's partner Jade Edmonds closing in, hoping to take them down.
Enemies Closer is a short thriller by author Tom Batt. Given that it is just 162 pages long it was easy to sit and read this book in one go. The pace is fast, especially given the short chapters and the characters are interesting, intriguing, and diverse.
The book opens with our main protagonist DI Mike Palmer from Metropolitan's Flying Squad sitting observing a bank waiting for a robbery he has been tipped off about to happen. With him is his number two, DS Jade Edmonds. When the robbers do hit though not everything goes according to plan. The robbers get away and DI Palmer is removed from the lead on the case.
Palmer is also having issues in his personal life when his ex-wife informs him she is getting a court order so that she can take their daughter to America to live, where her new partner has been offered a job. Palmer is distraught and vows to stop her, but how when he earns little and can't even afford child maintenance, let alone a top lawyer?
Enemies Closer was an exciting thriller and one that enjoyed the whole way through, even if I did know what was going to happen for a lot of it. The fact that this isn't just a police procedural book makes it more attractive. We get to meet the robbers (well three of them) and discover their lives, families, and why they are committing the crimes.
The book has been superbly written and I felt engaged with all the characters who came across perfectly realistic. It has also been well-plotted and is entertaining from beginning to end. This is an unputdownable crime thriller and one that will keep you engrossed and won't let you down.
---
Purchase Online:
Tom Batt

Tom Batt published his first book, Old Wounds: A Nick Shelby Case and Other Crime Stories in 2021 to positive reviews following it up with a second collection of short stories, MindSpaces in 2022. His first novella Street Siren was published the same year. He is also an award-winning screenwriter.
Author Links:
---
The above links are affiliate links. I receive a very small percentage from each item you purchase via these links, which is at no extra cost to you. If you are thinking about purchasing the book, please think about using one of the links. All money received goes back into the blog and helps to keep it running. Thank you.