Picken by Mary Murphy – Book Review
Picken by Mary Murphy – Book Review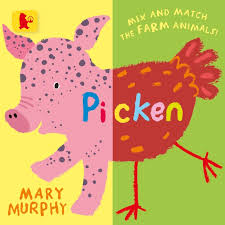 Picken
Author – Mary Murphy
Publisher – Walker Books
Pages – 12
Release Date – 5th January 2017
ISBN-13 – 978-1406371376
Format – board book
Reviewer – Stacey
I received a free copy of this book
Post Contains Affiliate Links

Mix and match the split pages of this ingenious board book to make your own amazing farmyard creatures! Mary Murphy's brilliant split page board book is perfect for helping little ones learn to mix and match. What do you call a cross between a lamb and a calf? How on earth do you make a "googlet"?
Children will love to mix up the heads and tails of different farmyard animals to invent hilarious new ones, while developing their matching skills as they work out how the animals should look. Mary Murphy's adorable creatures and colourful art style are sure to delight readers and help develop a lifelong love of books.

Picken, is a young children's board book. It has seven different baby animals on each page, and each page is split into two. The animals include puppy, goose, piglet, kitten, chicken, lamb and a calf.
The idea of the book is to make up your own animal using the seven animals included. You turn one half of the book over, which will be the front of the animal, and then you choose a different animal to be the rear, thus making a new silly animal. So you could have a lamb for the front half and a calf for the rear end, making a Lalf.
The book will give children a giggle as they get to make a whole host of made up animals. It will also help teach little children proper animal names, as well as the silly ones.
It is brightly coloured with bold, large illustrations. With it being a board book, it is also sturdy enough for a very young child to play with.
Picken is a lovely book that younger children can have some good fun with.
Book Reviewed by Stacey
Purchase Links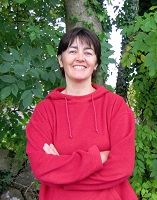 As a child
As a child, Mary was a constant reader. Her favourite books included Mary Poppins, Peter Pan and Tom's Midnight Garden. She also loved any stories about animals. Mary was the third of six children.
As an adult
Mary lives in Galway, Ireland, and describes herself as "fairly outdoorish, but not sporty". She loves walking, swimming, reading and cycling.
As an artist
Mary studied Illustration and Design in Dublin before freelancing as an illustrator. She has always written for pleasure, and soon began developing ideas for children's books following the antics of characters she had already visualised. A technique she sometimes uses is to draw the character in different situations, and then see what follows on from there.