The Writing Life of: Elli Lewis
Elli Lewis
This week on 'The Writing Life of:' I am thrilled to be interviewing author Elli Lewis. This post contains affiliate links.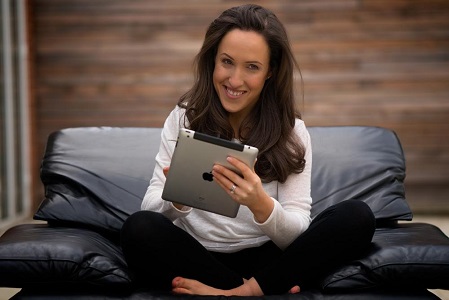 Elli Lewis grew up in North London, the second of three sisters and, consequently, in a home that was bursting at the seams with shoes.
As a teenager in the 90's, she experimented with Sun In, wore a standard uniform of combat trousers and vest top and shed tears over the breakup of Take That. She soon recovered and went on to study law before qualifying as a solicitor.
In the course of her career, Elli has worked for some of the UK's most prestigious law firms, representing a host of A-list clients. Her time in the City gave her a unique insight into the deepest depths of high society and the dizzying heights of fame. It was a world where pampered pooches roamed multi-million pound mansions and where ex-spouses had endless resources with which to wreak revenge; experiences that would later inspire her literary career.
---
1) Do you remember the moment you decided that you would like to become a writer?
Probably after I had completed my first book! Writing had always been part of my life, but this had translated itself in other ways; first as a lawyer drafting contracts and then when I became a copywriter, running my own agency. However, it was only once I had actually written a book, something which I wasn't certain I would ever achieve, that I knew that this was what I wanted to do full time.
2) How did you go about following your dream?
I have a tendency to jump into things with both feet and this was no exception. I committed to learning everything there was to know about publishing, I read industry publications, attended book fairs, I sold my agency and got a team behind me to build my website and help with marketing my book.
I still work part-time as a web editor, but the rest of my working week, I write.
3) Which authors inspire you?
Without a doubt it is Adele Parks who has most influenced my work. I love the sharpness of her characters, the themes in her stories and her writing style. It's definitely inspired my own writing.
Lianne Moriarty is a genius in my eyes and I aspire to plots as intricate and satisfying as hers. But having started to answer this question, other names are whirling around in my mind; Nick Hornby, Paul Torday, Matt Rudd, Jane Green, Margaret Atwood. I like to think that I have taken something away from each and every book I have loved and folded it somewhere into my own.
4) What is your working day like? Do you aim for a certain amount of pages/words per day?
I hate to admit it, but the moment I drop off my gorgeous munchkins at school, I shut myself up in front of my computer and type until I have no choice but to rush out and collect them again. I eat lunch there, drink endless cups of coffee and just write. I only set myself targets if I happen to be struggling with the dreaded writer's block and, if so, I aim for 1,500 words.
5) Do you have any strange habits or rituals whilst writing?
I always put things off until after a book is finished, like little rewards. I promise myself a particular pair of shoes or a jacket when I'm done. I also have to have a really tidy work space.
6) Do you write Longhand, Typewriter, Computer?
I am a computer girl all the way. I'm always wondering how I would cope as a writer if I didn't have the ability to delete, undo, change, cut paragraphs and move them to a different document for use another time. I always carry a notebook to jot down any thoughts that pop into my head, but everything else is done on my good old PC.
7) Do you have a favourite character(s) in any of your books?
I have to like my main characters, but there is always one character I insert into each story that holds a special place in my heart. In Trophy Life, that's Giselle, the sister-in-law. I based her on a family member and I love her blunt honesty. I also like that she defies stereotypes and that she's loyal and strong-willed.
8) Do you plot your books completely beforehand, or do you let your imagination flow whilst in the writing process?
A little bit of both. I plot every book, writing chapter summaries, character outlines and a synopsis, but like all good plans, they tend to unravel pretty quickly. Invariably, the plot changes as I write, as I get the feel of the story. If something doesn't feel right, I change it. Overall, the end result is always quite different to what I sketch out at the beginning.
Concerning your latest book: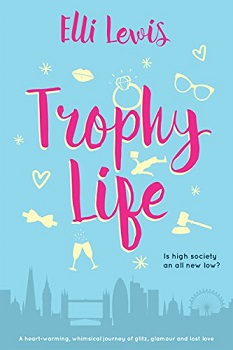 Trophy Life
Author – Elli Lewis
Publisher – CreateSpace
Pages – 266
Release Date – 18th July 2016
ISBN-13 – 978-1533588364
Format – ebook, paperback

An accidental trophy wife must survive the deepest depths of high society. Meet Amy, the world's most improbable trophy wife. She has a degree, ambitions and something resembling a mind of her own. The trouble is, she just doesn't use it anymore.
Married to handsome aristocrat, Harry Green, Amy's world is a whirlwind of luxury, labels and lunches. But amidst the peerages and polo of the privileged few lie wolves in minks' clothing. Before she knows it, Amy's perfect existence is plunged into chaos by the poshest of plots. Ominous heiresses, simpering starlets and a terrifying mother-in-law abound as Amy faces up to some harsh realities.
So, can Amy survive life in the upper crust? Or is high society an all new low?

9) How long did it take to get from the ideas stage, to the date of publication?
Trophy Life was inspired by my time working as a solicitor in the City, particularly my training contract, which I completed in 2005. I tried writing it back then, but a computer virus wiped out some 40,000 words – that's when I learned to back up my work – and that was pretty devastating.
I didn't go back to it for over a decade, but once I did, it was about a year from start to publish.
10) Did you suffer from writer's block at any stage? How did you overcome it?
Oh yes, the dreaded block comes whenever I hit a fork in the road of where to take the plot. My tactic is always to just write my way through it. No matter how rubbish I think it is, the writing always ends up where I want to be. Write first, edit later. It's a messy way to go about things, but it works for me.
11) How did you come up with the name(s)for your lead character(s)?
Naming my characters is a bit of a flight of fancy. I'd love to say that I pour over the names, but I just think of one that suits, often changing them later. The trickiest part is avoiding the names of people I know. Although I must admit that I have named the odd villain after someone…
12) Can you give us an insight into your main character (s), What makes them tick?
Amy is desperate to find her place in the world, both in terms of her family life and her career. Throughout the story, she tussles with the challenge of pleasing her parents, her husband, her mother-in-law and everyone else whilst trying to fulfil her potential.
It is this internal battle which makes it so hard for Amy to ever focus on being happy in herself. She yearns for a warm, loving family like the one in which she grew up, she wants to feel fulfilled in her work, but she's overwhelmed by the task of doing so.
13)If your book was made into a film, who would you love to play the lead character(s)?
I love this question. When I pictured Amy, I envisaged Anne Hathaway or Natalie Portman. Billy Zane's character in Titanic was certainly one inspiration in creating Amy's husband, Harry. Giselle would be Malin Akerman or someone equally as adept at comic timing and, as for Andrea, I see her as a cross between Jane Seymour, Meryl Streep and Maggie Smith – make of that what you will!
14) Did you get anyone in particular to read your work before sending it to the publisher i.e family member, friend etc?
Quite a few friends read Trophy Life before I dared to set it loose on strangers, but it is my husband who has the task of initially vetting all my work. He's probably read Trophy Life three times and has been instrumental in providing feedback and ideas at every stage.
www.ellilewis.com
@ellilewistweets
Facebook
Instagram
Goodreads