Guess How Much I Love You Colouring Book by Sam McBratney – Book Review
Guess How Much I Love You Colouring Book by Sam McBratney – Book Review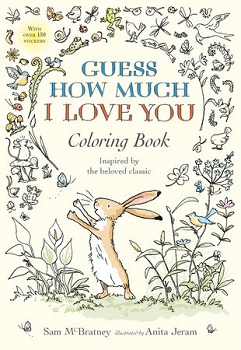 Guess How Much I Love You Colouring Book
Author – Sam McBratney
Illustrator – Anita Jeram
Publisher – Walker Books
Pages – 96
Release Date – 5th January 2017
ISBN-13 – 978-1406374919
Format – paperback
Reviewer – Stacey
I received a free copy of this book
Post Contains Affiliate Links

In Little Nutbrown Hare and Big Nutbrown Hare's world, love is a colourful thing! Enjoy enchanting patterns and illustrations of nature with playful quotes from the world of Guess How Much I Love You to be coloured in and adorned with over 125 stickers.

The world famous book, 'Guess How Much I Love you' has been given a colouring book makeover.
This beautiful A4 size colouring book features the original story of two hares trying to express how much they love one another, but love isn't easy to measure. The artwork on the pages is the same artwork featured in the book (amongst a few extra), yet this time the pictures are left for you to colour in.
The book also includes stickers at the back, as an added bonus.
Although this book is aimed at children, I can see adults having as much fun colouring the pages in, especially as colouring in has been known to be a stress reliever. Some of the illustrations, drawn by Anita Jeram, are quite dainty though, so I would suggest that this book was for older children, although the story itself is aimed at younger children.
Guess How Much I Love You Colouring Book is a fabulous book that I'm sure fans of 'Guess How Much I Love You' will enjoy using.
Book Reviewed by Stacey
Purchase Links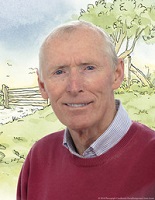 As a child
In his own words, Sam spent his postwar childhood "in short trousers and Fair Isle jumpers." He remembers studying for his 11-plus exam, before going to grammar school, and then on to study History and Political Science at Trinity College in Dublin.
As an adult
Sam became a teacher and taught at a further education college, a grammar school and a primary school. He took early retirement from the teaching profession to concentrate on his career as a writer. Sam is married with three grown-up children and a teenage tortoise, and lives in County Antrim, Northern Ireland.
As an artist
Sam has won many awards for his children's books and is best known as the author of the multi-million selling Guess How Much I Love You which was shortlisted for the 1994 Kurt Maschler Award, and is now one of the world's best-selling picture books. In 2004, Sam reunited with Guess How Much I Love You illustrator Anita Jeram to produce the follow-up, You're All My Favourites, and the two of them collaborated again in 2007 to produce a series of brand-new storybooks featuring the Nutbrown Hares: Guess How Much I Love You in the Spring followed by Summer, Autumn and Winter and brought together in Guess How Much I Love You All Year Round.
Author Links