Tony Taylor and Camping with Scouts by BC Mullins – Book Review
Tony Taylor and Camping with Scouts by BC Mullins – Book Review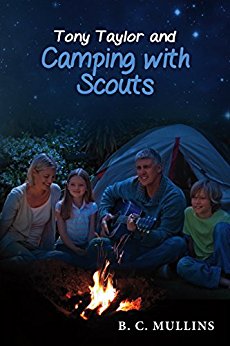 Tony Taylor and Camping with Scouts
Author – BC Mullins
Publisher – Bookbaby
Pages – 70
Release Date – 11th December 2016
ISBN-13 – 978-1483582887
Format – ebook, paperback
Reviewer – Stacey
I received a free copy of this book
Post Contains Affiliate Links

In this charming chapter book for young readers, Tony Taylor invites his scout troop to camp on his grandfather's farm in Maryland. There, as Tony knows, magical things have been known to happen, and this trip is no exception.
The scouts and their families enjoy a hike on the farm and a visit to a fair. They camp out under the stars and are entertained by Tony's grandfather who tells them a story about pixies, magical creatures who expect people to behave nicely and are known to play tricks when they don't. But it's just a story. There are no such things as pixies, right? Yet someone plays pranks on the boys who are less than nice. Pixies? Or someone else?
Join Tony and his friends on this adventure and decide for yourself! Tony Taylor books engage your imagination and are good, wholesome entertainment for the entire family.

Tony Taylor and Camping with Scouts, is the second book in the Tony Taylor series by BC Mullins. In this children's mystery/adventure story, Tony is camping on his grandparents' farm, with the scouts. The farm is said to be a mystical place, but only a few know the truth.
When three of the boys think that it is funny to be horrible and mean to the other scouts, Tony's grandpa tells the group a story about Pixie's that are said to live nearby. These pixie's don't like nasty people and play tricks on them to teach them a lesson. The three boys laugh at Tony's Grandpa, yet when they come to stand up all their laces are tied together.
When other mysterious occurrences happen, the scout leader demands that the culprit owns up, but everyone is as baffled as the next person about who is playing tricks on the three boys. Are there really pixies living on the land, causing mischief?, or is someone trying to teach them a valuable lesson?
I enjoyed the first book in the Tony Taylor series, Tony Taylor and Summer with Grandpa, which I reviewed earlier in the year. So when BC Mullins asked me if I would like to read the second book, I eagerly agreed.
Just like in the first book, Tony's adventure takes place on his grandparents' farm, where mysterious happenings are said to occur. We also meet up again with Grandpa, Grandma and Skippy the dog too.
The book is exciting, and the message about being nice to others comes across good and strong. My only criticism is that I would of loved to have see a few illustrations in the book, given that it's a children's story. Just a few, such as one per chapters would of been enough.
Tony Taylor and Camping with Scouts is a short, yet thrilling book, that I'm sure kids will enjoy.
Book Reviewed by Stacey
Purchase Links


I'm a widow, the mother of two grown sons, and live in Maryland with them and my two dogs, a corgi-mix and a Jack Russell terrier-mix. I love children and animals, dollhouse miniatures, crafts, reading, travel, bicycling, and new adventures.
Life is always an adventure no matter where you are – even if you never leave home!
Author Links