Escape by Emma Eggleston – Book Review
Escape by Emma Eggleston – Book Review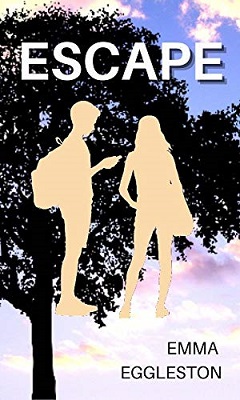 Escape
Author – Emma Eggleston
Pages – 142
Released – 14th January 2021
ISBN 13 – 979-8594211483
Format – ebook, paperback
Rating – 4 Stars
I received a free copy of this book.
This post contains affiliate links.


Synopsis
Laila is Richardsville High's quirky girl. She's just biding her time until graduation when she has an unusual encounter with Matty, the all-American boy next door, everybody just can't get enough of.
When Matty and Laila start to talk, he shares a secret with her. He's a part of a clinical study for a medication called effugium and it can really transport him to other places and times. Will Laila trust Matty enough to try the effugium?
Escape is a short YA book featuring two teenagers Laila and Matty who in the beginning although they have spent twelve years at school together barely know each other, except for one summer working together.
Laila doesn't feel like she fits in at school and can't wait to graduate. Matty is the good-looking guy all the girls fancy. Clever and sporty too. However, he is hiding a secret behind his smile. He is depressed.
After a talk with his mum and doctor Matty is started on antidepressants. Unfortunately, they don't work for him so he is put on a clinical trial of a new drug called effugium. Matty is to take one daily but when he does he travels to places such as his past or his future and sometimes places that have nothing to do with him.
He is desperate to share his experience with someone and believes that Laila would be perfect. But will Laila be willing to travel in time with Matty?
The book is author Emma Eggleston's debut novel and whilst the plot was different and the storyline enjoyable I could tell it had been written by someone just starting on their career as the characters were quite one-dimensional and they told their feelings and emotions, rather than showed them. Being just 142 pages I feel the author tried to cram too much into the story as we go from Laila and Matty being teenagers to their adult years.
However, despite the above issues, Escape had me hooked and kept me wanting to know what would happen next to Laila and Matty. I also sat and read it in one sitting, a mixture of a short book and me being intrigued enough to stay fixed on it.
The story features a clinically depressed young man which was handled with great care and attention and you could tell that the author had done her research into the condition. There isn't really anything in the way of romance in the book. Matty and Laila are friends who over time fall for one another but their relationship doesn't particularly head anywhere, not helped by overprotective parents who don't like to listen to reason.
Purchase Online From:
---
What did you think of 'Escape'? Share your thoughts in the comment section below!
---
The above links are affiliate links. I receive a very small percentage from each item you purchase via these link, which is at no extra cost to you. If you are thinking about purchasing the book, please think about using one of the links. All money received goes back into the blog and helps to keep it running. Thank you.
Like us on Facebook – Tweet us on Twitter – Pin us on Pinterest