A Place Called Perfect by Helena Duggan – Book Review
A Place Called Perfect by Helena Duggan – Book Review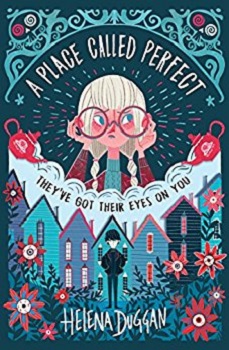 A Place Called Perfect
Author – Helena Duggan
Publisher – Usborne Publishing
Pages – 352
Released – 1st August 2017
ISBN-13 – 978-1474924160
Format – ebook, paperback, audio
Reviewer – Stacey
I received a free copy of this book
Post contains affiliate links
Violet never wanted to move to Perfect. Who wants to live in a town where everyone has to wear glasses to stop them going blind? And who wants to be perfectly behaved all the time?
Violet quickly discovers there's something weird going on, and when she meets Boy she realizes that the mysterious Watchers are guarding a perfectly creepy secret!
Review
The town of Perfect was run by the Archer Twins, George and Edward. Just like the place name, everything was perfect, except for one thing, all the residents went blind not long after arriving and needed special pink rimmed/rose tinted glasses to be able to see again.
Dr. Eugene Brown was a top Ophthalmologist, (eye surgeon), and had been headhunted by the Archers to fix the problem. Eugene moved to Perfect with his wife Rose, and ten year old daughter Violet. Sure enough the next day all three went blind and needed the special glasses to be able to see again.
Violet was a little girl with a big imagination, but even she knew she wasn't imagining that something was wrong in Perfect, especially when her father went missing and her mother didn't seem to care.
Then Violet met Boy, a little lad from a place called, No-Man's Land, whom she could only hear when she didn't have her glasses on, and only see with a pair of gold rimmed glasses that she found. Boy agreed with Violet that something was not right in Perfect. The two set off on an adventure to locate Violet's dad and find out just what it was that Perfect was hiding.
A Place Called Perfect is an engaging, exciting and fun book for readers aged around 9 years plus, though it would be a great book for a parent/guardian to read with their child.
Ms. Duggan's style of writing actually reminded me of Roald Dahls. The chapters are short, the plot is filled with mystery, adventure and strange occurrences, and the heroes are just normal little children.
Violet and Boy form a beautiful friendship even-though they have been brought up very differently. They learn to get along together, although there are a few moments where they are not so nice to one another. They are very likeable characters. Violet goes from this little girl who is scared of everything, to one that is brave, resilient and determined.
The book has a dystopian feel to it, with those people that conform to Perfects society being allowed to stay in Perfect and those that don't being cast aside to No-Man's Land.
It is a lovely, enjoyable book that is just as good on the inside as the front cover looks. I also hear that there is going to be a sequel too.
Reviewed by Stacey

---
About the Author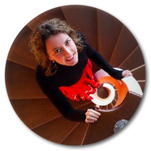 Helena Duggan is from Kilkenny, a medieval, haunted city in the south of Ireland. She's pretty old, like 31 or something but her friends say she's never grown up, so like she's probably really only 13 in brain years.
She writes stories for people her brain age and they are always full of adventure cause she gets bored really easy. She's also a graphic designer, that means she draws pictures for a living, she also colours the pictures in though so it's pretty tough work.




---