Books2Door – Product Review
Books2Door – Product Review

Sponsored Post – I was recently given the opportunity to choose a collection of books from Books2Door to review and share with all you fabulous readers. The company encourages a love of reading in all children and has been bringing you exceptional books at affordable prices since 2004.
About Books2Door
Books2Door was started back in 2004 to make books affordable to the readers. The site although geared up for mainly children's books does have YA books too. They also sell fiction and non-fiction.
They not only have a dedicated team available to help you, but their site is well set out and easy to use – You can search via book name, age of the recipient, publisher, price, or their special offers. They also have a 4.9 out of 5-star review rating on Trustpilot, so you can see they are a wonderful company.
Their delivery charges are reasonable and free within the UK for orders over £30. Plus, they post worldwide as well.
The company also has Book Points. By earning points with your orders, you will get 10% cashback on your future orders of over £10. You can also use your points to get free delivery. Plus, if you refer your friend, both of you will get a £5 discount when your friend makes a purchase. This discount can be used on your orders of £30 or more.
My Choice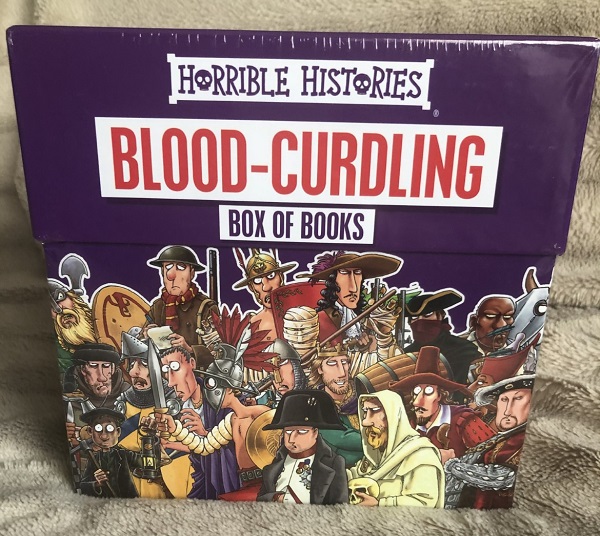 As Books2Door very kindly gave me a very large list of books to choose from to review, it was a hard choice. There are so many amazing books on their site. Plenty of well-known authors too such as Michael Rosen, Jill Murphy, Rick Riordan, Enid Blyton, and Cassandra Clare to name but a few. There are literally hundreds of books on the site.
Eventually, I opted for Horrible Histories Blood Curdling 20 Books Collection by Terry Deary. Published by Scholastic. The books arrived quickly and were well wrapped, so the box was in perfect condition.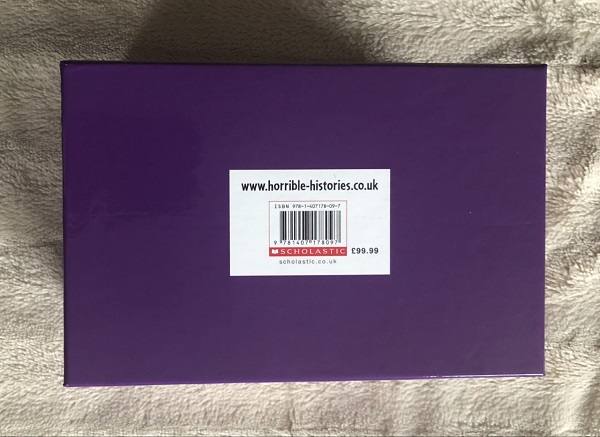 The set price on the bottom of the box is £99.99. Books2Door sells the set at just £39.95, which is a whopping £60.04 off the retail price. Can I also point out that the books bought individually will set you back £5.99 each so the box set at full price is already reduced by £19.81. Wow, that is some saving.
Purchase Link – Horrible Histories Blood Curdling 20 Books Collection
I also noticed this morning that they have a double set of books – Horrible Histories and Horrible Science 40 Books, that is two sets at an amazing £40.99, so for just an extra £1.04, you get two sets of books. That price is just bonkers and not to be missed (plus it is over £30 so free standard delivery too).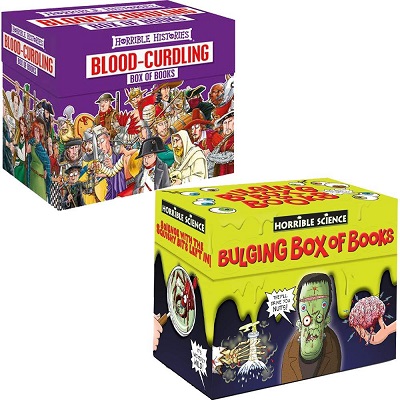 Purchase Link – Horrible Histories and Horrible Science 40 Books
About the Books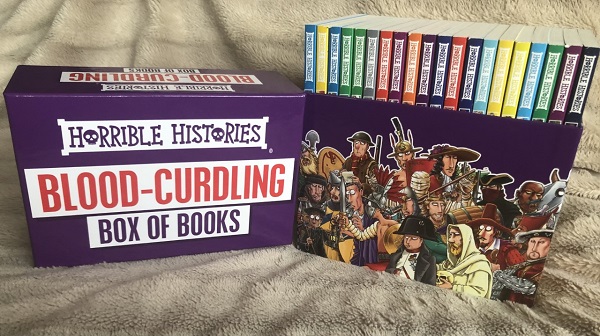 As you have probably gathered by the title, Horrible Histories Blood Curdling 20 Books Collection, is a set of 20 books all about periods in history, each book is about a different era. The set includes:-
– Frightful First World War
– Woeful Second World War
– Blitzed Brits
– Barmy British Empire
– Vile Victorians
– Villainous Victorians
– Gorgeous Georgians
– Slimy Stuarts
– Terrible Tudors
– Measly Middle Ages
– Incredible Incas
– Angry Aztecs
– Stormin Normans
– Vicious Vikings
– Smashing Saxons
– Cut-Throat Celts
– Groovy Greeks
– Awesome Egyptians
– Savage Stone Age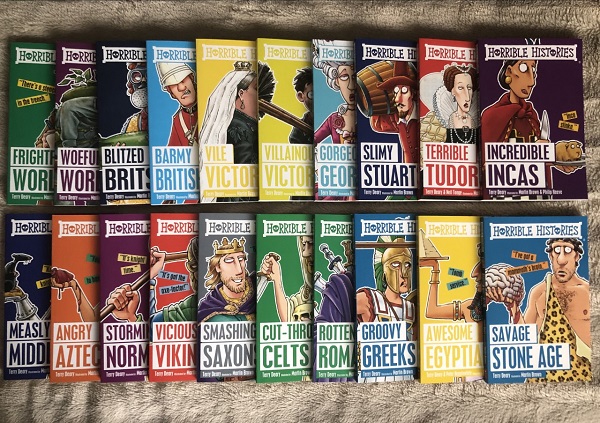 Each book is roughly 144 pages long and comprises of plenty of facts and details of that era, all easy to read and understand. They are entertaining and educational at the same time and not too long that the child will get fed up with reading it. They also contain some amazing fun artwork which will give children a giggle.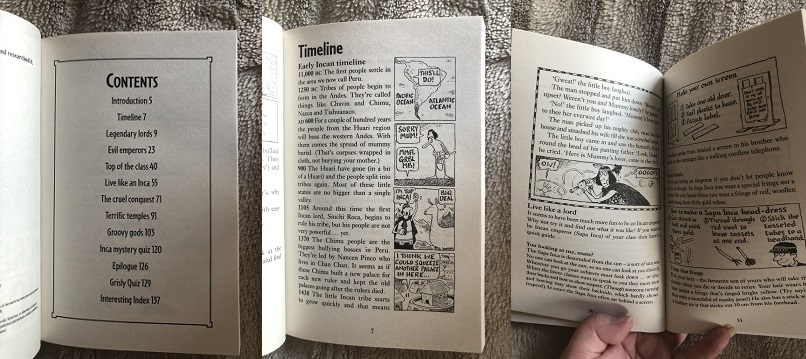 This set would make a fantastic gift, especially with Christmas coming up, and with Lockdown 2 upon us, Books2Door is the perfect place to buy books online, especially as they have very reasonable prices. I couldn't believe some of their discounts. Plus, people will think you spent far more on them whilst you make some great savings!!
For a child who loves learning, or even to help them with a school project this set would be perfect, or like I said above for a tiny little extra get two box sets. The books really are as good as they look.
---
To check out all the items on the site visit –
You can also connect with them on Facebook, Twitter and Instagram
---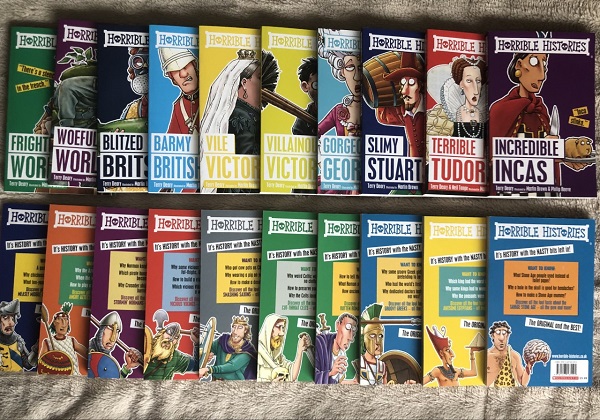 Disclosure: I received the books for free for the purpose of this review. All thoughts, photos and opinions are entirely my own.
Like us on Facebook – Follow us on Twitter