The Macaroon Chronicles by Dawn Knox – Book Review
The Macaroon Chronicles by Dawn Knox – Book Review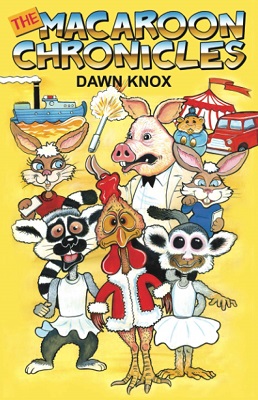 The Macaroon Chronicles
Author – Dawn Knox
Publisher – Chapeltown Books
Pages – 222
Released – 13th October 2020
ISBN-13 – 978-1910542606
Format – ebook, paperback
Review by – Stacey
Rating – 4 Stars
I received a free copy of this book.
This post contains affiliate links.


Take a tour of the exotic Isle of Macaroon with Eddie and his zany friends who will be pleased to show you the cheese mines, Meringue Mountains and the Custard River while they flee unscrupulous promoters, bandit badgers and low-flying seagulls. But a word of advice – don't refer to Eddie as a chicken, he thinks he's a bald eagle. And don't mention Brian's small stature, he's rather sensitive about his size. Oh, and don't call Brian a monkey, he's actually a lemur. And finally, if Gideon takes a pen out of his pocket and you value your life – duck.

Meet the chicken called Eddie who thinks he is a Bald Eagle and a whole bunch of weird and wacky friends who live on the island of Macaroon where nothing is as it seems. From a custard river to broccoli trees, a cheese mine, and fields of candyfloss bushes to name but a few.
The book opens with Eddie sorting out advertising for the new band he is managing 'The Three Wise Monkeys', although there are only two members and one of them is a lemur. They are to play their first gig at the annual music festival but when they eventually get there with their new member's bunnies Babs and Deidre they end up being the headline act which propels them to stardom and a sneaky music promoter.
Join this bunch of strange animals as they have to escape the grips of their new manager, get sued for making clothes out of cheese, deal with a crafty car park attendant/mechanic, and become associated with a real-life spy, and this is just the start of their journey.
The Macaroon Chronicles is like a children's book for adults. The characters are all animals, the setting is filled with food scenery, and the plot completely bizarre. How on earth author Dawn Knox came up with a book like this is baffling but she sure has one fun imagination.
I wasn't quite sure going into this book how I was going to get on with it. I like books that are different and a little out there but I wasn't sure whether this was too out there even for me. However, I was strangely hooked on the book and read it in one sitting. The chapters were quite short, which I like as I find short chapters add a dramatic feel to a book and there were eighteen of them.
Amid the weird and unusual is a story that if you changed the characters to humans would work too. It is a book where you can relate to what is happening. I liked it mainly because it was different.
If you are after a book that is a light-hearted, easy, quick read but nothing like you will ever have read before then I can suggest you read this one.
Book Reviewer – Stacey
---
Purchase online from:
---
About the Author

Dawn Knox lives in Essex, UK with husband, mum and son. She has been writing for several years and has had success with various horror, sci-fi, and romantic stories. Her first published children's story was DAFFODIL AND THE THIN PLACE.
In 2016, she published THE GREAT WAR – 100 STORIES OF 100 WORDS, HONOURING THOSE WHO LIVED AND DIED 100 YEARS AGO, her tribute to the people who endured World War One.
She has had several historical romances set not far from where she lives in Essex, called 'WELCOME TO PLOTLANDS', 'A TOUCH OF THE EXOTIC' and 'TOUCHED BY TWO WARS' published by Linford Romance Library. Several further stories in the 'PLOTLAND' series will be published by Linford Romance Library shortly, as well as the World War Two 'HEART' trio.
Dawn has also written two plays about the First World War, one of which has been performed in England, Germany and France and the other in England and Germany.




---
What did you think of The Macaroon Chronicles? Share your thoughts in the comment section below!
---
The above links are affiliate links. I receive a very small percentage from each item you purchase via these link, which is at no extra cost to you. If you are thinking about purchasing the book, please think about using one of the links. All money received goes back into the blog and helps to keep it running. Thank you.
Like us on Facebook – Tweet us on Twitter – Pin us on Pinterest