The Counterfeit Candidate by Brian Klein – Book Review
The Counterfeit Candidate by Brian Klein – Book Review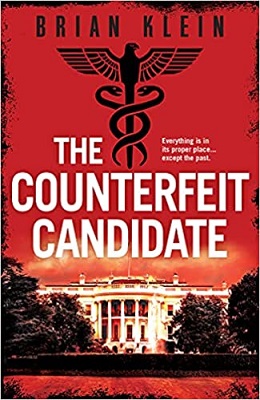 The Counterfeit Candidate
Author – Brian Klein
Publisher – Spirit Entertainment
Pages – 384
Released – 15th July 2021
ISBN-13 – 978-1953789938
Format – ebook, paperback, audio
Rating – 5 Stars
I received a free copy of this book.
This post contains affiliate links.


Synopsis
Berlin, 30th April, 1945
As the Russian Army closes in on the war-torn City, Adolf Hitler and Eva Braun take their own lives. Their bodies are burned and buried in the Reich Chancellery garden, above the Führer's bunker.
Buenos Aires, 9th January, 2012
Three audacious thieves carry out the biggest safe depository heist in Argentine history, escaping with more than one hundred million dollars' worth of valuables. Within hours, an encrypted phone call to America triggers a blood-soaked manhunt as the thieves are tracked down, systematically tortured, then murdered.
San Francisco, 18th January, 2012
Senator John Franklin, hailed as the 'Great Unifier', secures the Republican Presidential nomination and seems destined for the Oval Office. Despite the sixty-seven year interval and a span of thirteen thousand miles, these events are indelibly linked.
Chief Inspector Nicolas Vargas of the Buenos Aires Police Department and Lieutenant Troy Hembury of the LAPD are sucked into a dark political conspiracy concealing an incredible historical truth stretching from the infamous Berlin bunker to Buenos Aires and to Washington, which threatens the very heart and soul of American democracy.
The Counterfeit Candidate is the debut novel by author Brian Klein. It features a mixture of genres including thriller, mystery, action, adventure, crime, and historical fiction. It also packs a punch and if you love books that suck you into the plot and get your heart pumping then this is certainly one to pick up.
We begin the story back in 1945 and the supposed suicide of Adolf Hitler and his new bride Eva Braun. The book runs with the conspiracy theory that Hitler never killed himself and that he and his wife fled to Argentina.
We then move to 2012, Argentina where three men have been building a tunnel for the last eight months from an old café site to a bank's security deposit vault nearby. The three plan to hit the vault in the early hours of the morning, drill and take the contents of 120 boxes and then escape. Their plan includes splitting the boxes between them, each hiding their stash and not touching them for another year so as not to bring suspicion on themselves.
Also in 2012 Senator John Franklin has secured the Republican's Presidential Nominations and seems to be on his way to being the next President of the United States. What is held in one of the boxes taken could have devastating consequences on his candidacy. He has an elite team of 'finders' looking for the contents of the box and they are willing to do anything to retrieve it.
Can the men get away with the biggest heist in Argentinian history or will the finders get to them first? There is a third option, that Chief Inspector Nicolas Vargas who has been put on the case discovers who the men are first and get to them before the finders do.
The Counterfeit Candidate had me on the edge of my seat. It is pure action and adventure with a few lulls when it comes to the parts set back in time with Hitler and his wife. The conspiracy theory that Hitler never killed himself is one I hadn't heard before, even though it began straight after his death. I can see why given the circumstances and what happened to the bodies as to why people would think that.
I loved the weaving of the past into the present, it worked well. I also love how the three thieves had planned everything for months, including getting rid of the dirt, timings (though they got this slightly wrong as only 90 boxes were taken), even their encounters with the police were calculated and planned. However, they never calculated for the storm that was about to rain down on them!
This is an absolutely outstanding piece of fiction that I couldn't put down. With its short chapters that heightened the action and its cat and mouse feel I was in my element. Being able to perfectly visualise every moment and scene has me believing that this book would be an ideal choice for a movie adaptation. It would seem that Brian Klein is a natural storyteller.
Purchase Online From:
---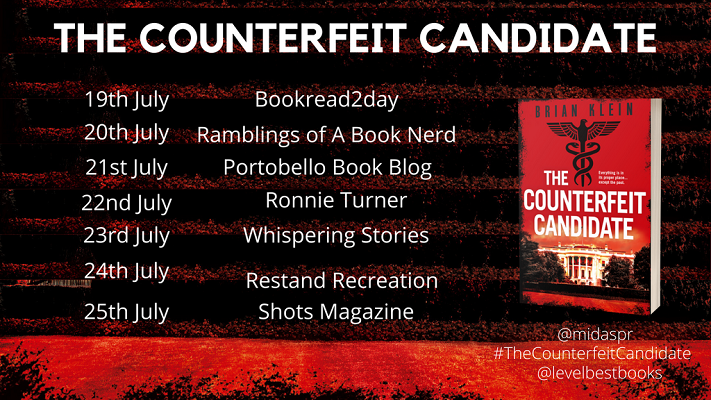 ---
What did you think of 'The Counterfeit Candidate'? Share your thoughts in the comment section below!
---
The above links are affiliate links. I receive a very small percentage from each item you purchase via these link, which is at no extra cost to you. If you are thinking about purchasing the book, please think about using one of the links. All money received goes back into the blog and helps to keep it running. Thank you.
Like us on Facebook – Tweet us on Twitter – Pin us on Pinterest – Join us on Instagram