The Safekeeper by Esther Archer Lakhani – Book Review
The Safekeeper by Esther Archer Lakhani – Book Review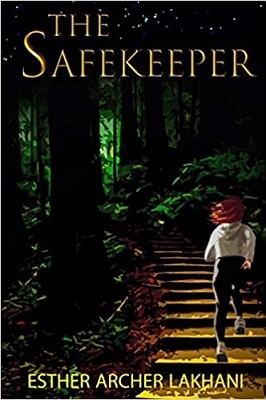 The Safekeeper
Author – Esther Archer Lakhani
Publisher – Bowker
Pages – 188
Released – 1st October 2020
ISBN-13 – 978-1735878218
Format – ebook, paperback
Review by – Stacey
Rating – 4 Stars
I received a free copy of this book.
This post contains affiliate links.


Her job is to keep their secrets safe.
A secluded Retreat Center full of preternatural clientele. A talking crow who thinks she knows everything. A new boy in town asking a lot of nosy questions. Sound like a lot to handle? Not for fifteen-year-old Macy Steward, who lives at the Center and helps her parents run the highly unusual retreats.
For Macy, this is simply normal routine. And it's all going exactly as expected, that is until the guests become dangerously unpredictable, the talking crow goes suspiciously missing, and the new boy turns out to be so much more than he first appeared.
"Here comes trouble." That's the last thing the crow says before disappearing.
Even though she doesn't scare easily, Macy has to admit the crow was right. Because soon enough, she finds herself trying to keep a lot more things safe than just secrets…

Fifteen-year-old Macy Steward works at her family-run Greenmont Grith Retreat Center where humans play body hosts to offworlders for three days in which they come to Earth to relax. Activities include yoga, arts & crafts, hikes, mindfulness sessions, and much, much more. The hosts have all been selected or volunteered. This time just five offworlders are waiting to join the retreat, so only five humans are needed.
The retreat is a secret, private affair governed by the Orbit Center Council Order and there are rules for both humans and the offworlders to make sure everyone is happy and everything runs smoothly.
However, this time things are a little hectic including a newcomer to town, student Nick Pendigan sniffing around the place under the guise of wanting to take Macy out, the resident crow called Clio has gone missing, the offworlders are not behaving themselves and something is not right with the one they say is just an errand boy. Plus Macy keeps on seeing things, such as a moving Gargoyle, her friends turning into creatures, and Clio no longer just being a crow.
Is something stranger going on, is Macy losing it, or is there something more suspicious happening?
The Safekeeper is a fantasy, supernatural, sci-fi, YA read for I would say the younger end of the YA market. The book is certainly different from anything I have read before and I liked the easy of the story as I never once felt out of my comfort zone or confused which can happen when I read books that feature sci-fi elements.
The plot is told in the first person and from Macy's POV. The writing is quite basic and it certainly felt like I was reading a YA or even a middle-grade book. However, this didn't distract me from the eventful and adventurous storyline that just kept on giving. I liked the idea of there being a body swap with people from other worlds and that they come here to relax and enjoy themselves before heading home. I also liked the naughty crow.
The book was both engaging and humorous at times. I did rush through it as I was eager to keep the story moving and wanted to know more about this retreat and offworlders as well as Macy. There are plenty of twists and turns and the pace felt fast, leaving me with a desire to not put the book down and just keep reading, as such I read it in just two sittings.
Overall, this is an impressive debut novel that will appeal to those who want something different from the fantasy/sci-fi/supernatural world. It has characters you can enjoy spending your time with and from my limited sci-fi knowledge a unique plot, well, it was to me.
Book Reviewer – Stacey
---
Purchase online from:
---
About the Author

Esther Archer Lakhani lives in California near the wondrous redwoods of the Pacific Coast. A writer, musician, and avid nature enthusiast, Esther spends her time either working on her next book, teaching music at the local community college, or hiking in the forest with her husband and two nearly-grown sons.
Esther has a fascination for all things concerning wildlife, and regularly daydreams about all the possible types of both known and yet-to-be known fantastical life forms. Her husband confirms she is very good at making things up. The Safekeeper is her debut novel.




---
What did you think of The Safekeeper? Share your thoughts in the comment section below!
---
The above links are affiliate links. I receive a very small percentage from each item you purchase via these link, which is at no extra cost to you. If you are thinking about purchasing the book, please think about using one of the links. All money received goes back into the blog and helps to keep it running. Thank you.
Like us on Facebook – Tweet us on Twitter – Pin us on Pinterest