Captain Hook: Villain or Victim by Ellwyn Autumn – Book Review
Captain Hook: Villain or Victim by Ellwyn Autumn – Book Review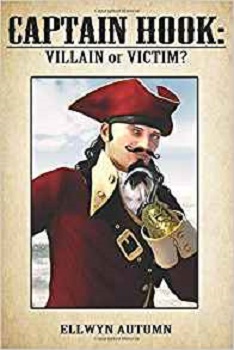 Captain Hook: Villain or Victim
Author – Ellwyn Autumn
Publisher – Angel Kiss Publications
Pages – 72
Released – 5th April 2019
ISBN-13 – 978-0578456119
Format – ebook, paperback
Reviewer – Stacey
Rating – 4 Stars
I received a free copy of this book.
This post contains affiliate links.
David J. Locke is a would-be journalist with lofty aspirations. Following an incredible lead, he sails the high seas in search of Captain James T. Hook, resolved to uncover the pirate's version of what happened with Peter Pan.
Adventure abounds during Locke's travels; unexpected revelations lurk around every dark corner. During his travels, an old seaman befriends Locke and guides the inexperienced reporter as he learns truths about Hook he never expected.

Ever wanted to know how Captain Hook became the most feared pirate or what happened to him after the crocodiles supposedly ate him in Peter Pan? Well, now you can in Ellwyn Autumn's account of what happened after the fairytale ended.
Edwardian London 1913 – Accountant David J. Locke believes in magic and fairytales so when he hears a young boy telling his peers about Captain Hook and how he's still alive he wants to know more. He persuades the boy to tell him everything he knows. The boy tells him that Captain Hook is alive and living in Madagascar. Locke gives up his job and sets sail hoping to get an interview with the dreaded pirate and make his fortune.
However, not everything is as it seems on the crossing to Madagascar and Locke discovers far more than he ever dreamed of knowing.
Captain Hook: Villain or Victim isn't exactly the story I was expecting to read. I was expecting would-be journalist David J. Locke to spend most of the book interviewing the most famous fictional pirate but this was more of an account of what Locke got up to on the journey including a discovery and secrets galore.
The book was easy to read, well written, engaging, and I read it in under 30 minutes. I wasn't sure what age this book would be best for, most likely middle grade. The only little niggle that I have with the story is that it had quite a few words that even my thirteen-year-old had never heard of before. Words such as ostracized, fortuitous, admonished, veracity amongst a few others, perhaps a glossary at the back to help educate children what the words mean might be good.
Reviewed by Stacey
---
Purchase online from:
---
About the Author

Ellwyn Autumn is a certified teacher with a Master's In Education and 20 years classroom experience. She is a contributing writer for Coffee House Writers and has an educational blog called Lemon Drop Literary. Ellwyn lives in Pennsylvania with her family. She loves all things magical, curling up with a good book, and almost anything with chocolate in it.



---
The above links are affiliate links. I receive a very small percentage from each item you purchase via these link, which is at no extra cost to you. If you are thinking about purchasing the book, please think about using one of the links. All money received goes back into the blog and helps to keep it running. Thank you.