Image of You by Adele Parks – Book Review
Image of You by Adele Parks – Book Review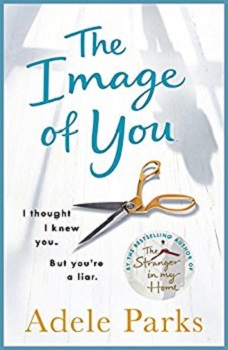 Image of You
Author – Adele Parks
Publisher – Headline Review
Pages – 480
Released – 22nd February 2018
ISBN-13 – 978-1472205575
Format – ebook, paperback, audio
Reviewer – Linda
Rating – 5 Stars
I received a free copy of this book.
This post contains affiliate links.
Can you ever trust someone you meet online?
Anna and Zoe are twins. Identical in appearance, utterly different in personality, they share a bond so close that nothing – or no one – can rip them apart.
Until Anna meets charismatic Nick.
Anna is trusting, romantic and hopeful; she thinks Nick is perfect. Zoe is daring, dangerous and extreme; she thinks Nick is a liar.
Zoe has seen Anna betrayed by men before. She'll stop at nothing to discover if Nick is as good as he seems.
Lies may hurt. But honesty can kill.

Adele Parks your books just keep getting better and better!
Image of You starts slowly with a lovely romance for Anna, plenty of emotion, empathy, and love. Then we meet Anna's twin sister Zoe the yin to Anna's Yang as stated by the author, and the story takes off with plenty of deceit, lies, and drama all holding us in suspense and keeping us intrigue until the final page.
The book has been brilliantly written. It is a good page-turner with no predictability to how it would end! The mood was both light and dark, with plenty of highs and lows.
The descriptions of all the character's were superb, dear Anna, she was so kind and would do anything for anyone and all she did was fall in love. Zoe had a dark manipulative way, she even cast a spell on Nick, who was a confident, almost arrogant man about town, who fell in love. I loved the unusual plot with its extraordinary twists.
This book totally and utterly drew me in and kept me hooked the whole way through. I really enjoyed it and highly recommend it to all who love domestic thrillers. I now look forward to reading more of Adele Parks books in the future.
Reviewed by Linda
---
Purchase online from:
---
About the Author

I like to keep busy and am pretty flattered when I'm described as one of the most-loved and biggest-selling women's fiction writers in the UK, (who wouldn't like that?!) Three million copies of my UK editions have been sold and I'm translated into 26 different languages. I've published eighteen novels in eighteen years, and I'm lucky that they've all hit the bestseller lists.
I have written 16 contemporary novels and two historical ones, Spare Brides and If You Go Away, set during and after WW1. All my novels examines issues that are important to us all. I like to scrutinize our concepts of family, our theories on love, parenting and fidelity with (I hope) honesty and humour. Whatever period I set my novels I'm known for examining the thorny issues of the lives people lead with my trademark, up-front, tell-it-as-it-is style.
I passionately believe that reading is a basic right. I'm a proud Ambassador of The Reading Agency's Six Book Challenge, a scheme that encourages emerging adult readers who are becoming passionate about books. In 2008 I wrote a Quick Read, Happy Families as part of the celebrations of World Book Day, which went on to win Quick Read Learners' Favourite Award, as voted for by the public.
I am a judge for the Costa Book Awards and The British Book Awards which is a great privilege and an amazing experience. During my career I've lived in Italy, Botswana and London. Now I live happily in Guildford, Surrey with my husband, teenage son and cat. I guess, that's it, so far…





---
The above links are affiliate links. I receive a very small percentage from each item you purchase via these link, which is at no extra cost to you. If you are thinking about purchasing the book, please think about using one of the links. All money received goes back into the blog and helps to keep it running. Thank you.