Can Bears Ski? by Raymond Antrobus – Book Review
Can Bears Ski? by Raymond Antrobus – Book Review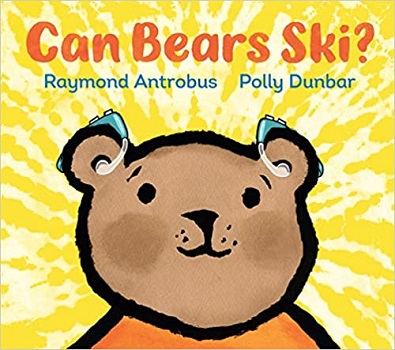 Can Bears Ski?
Author – Raymond Antrobus
Illustrator – Polly Dunbar
Publisher – Walker Books
Pages – 40
Released – 4th February 2021
ISBN-13 – 978-1406382624
Format – hardcover
Rating – 5 Stars
I received a free copy of this book.
This post contains affiliate links.


Synopsis
The debut children's book from Ted Hughes award-winning poet Raymond Antrobus that tracks a father-and-son journey into the discovery and management of deafness.
Boy Bear cannot hear Dad Bear coming to wake him up in the morning but he can feel the floor vibrate with his heavy footsteps. He can only grasp little bits of what his teacher says to him at school. He cannot catch what his friends are laughing at. And, all the time, Boy Bear keeps hearing the question, "Can Bears ski?" What does it mean? With the support of Dad Bear, Boy Bear visits an audiologist and, eventually, he gets hearing aids. Suddenly, he understands the question everyone has been asking him: "CAN YOU HEAR ME?"
Raymond draws on his own experience to show how isolating it can be for a deaf child in a hearing world. But through his lyrical and moving words, matched with Polly's stunning imagery, he also shows how many ways there are to communicate love. With a solid network, Boy Bear will find his place in the world.
Can Bears Ski? is a beautiful and poignant children's book that is about childhood hearing loss. Little bear can feel vibrations, but when people speak to him he feels like they are all asking him the same question 'Can Bears Ski?'. He doesn't understand why everyone keeps on asking him that question.
One day his dad takes him to see an Audiologist who after performing some tests explains that little bear suffers from hearing loss and starts him on lip-reading course as well as giving him hearing aids. He soon learns that people weren't asking him about skiing but rather 'can you hear me?'
What a fabulous children's book this is. I can hazard a guess that there aren't many children's books out there that are about hearing lose/deafness. I commend the author who is deaf himself for writing a book he would have loved as a child.
This is a book that would be perfect for a deaf child to read about something that they have in common with the main character. It is also a wonderful book to educate others about deafness and how a child might feel if they can't hear or can only hear slightly.
I adored this book. Not only does it have an amazing story, it also has marvellous full-page illustrations throughout that show you the emotions bear goes through, especially when he suddenly hears the world so loudly, something I can only imagine must be quite distressing at first and hard to get used to if the world you have lived in for so long is silent.
Purchase Online From:
---
What did you think of 'Can Bears Ski?'? Share your thoughts in the comment section below!
---
The above links are affiliate links. I receive a very small percentage from each item you purchase via these link, which is at no extra cost to you. If you are thinking about purchasing the book, please think about using one of the links. All money received goes back into the blog and helps to keep it running. Thank you.
Like us on Facebook – Tweet us on Twitter – Pin us on Pinterest – Join us on Instagram