The Man in the Mango Tree by Christopher Walker – Book Review
The Man in the Mango Tree by Christopher Walker – Book Review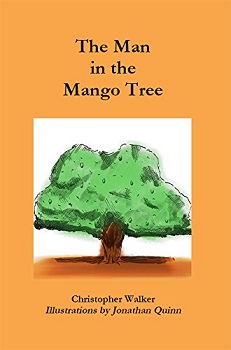 The Man in the Mango Tree
Author – Christopher Walker
Publisher – lulu.com
Pages – 74
Release Date – 30th December 2015
ISBN-13 – 978-1291457513
Format – ebook, paperback
Reviewer – Jodie
I received a free copy of this book
Post Contains Affiliate Links

A young man lives hidden in the depths of a great mango tree somewhere in Africa. Learn about his daily life, his friends the lizards and the birds and the village that lies close by. And then witness as the man in the mango tree must work valiantly and with every ounce of bravery in his heart to save his home from destruction. . .
"The Man in the Mango Tree" includes illustrations by Jonathan Quinn which complement the text at key points in the story. The book is great for younger readers who feel independent enough to approach a book by themselves, and also for parents to read to or with their children. As an English language teacher the writer understands the problems that foreign speakers face when learning a language, and this book has also been written with students in mind.
"The Man in the Mango Tree" contains a variety of language, but nothing that should prove problematic for language learners at B1 level or above; the themes it explores can be used for further discussion in the classroom.

The story is set somewhere in Africa and takes you back to the heart of the land. A young man lives in a mango tree with just the animals for friends. To save his home and the surrounding land from a greedy property developer, he has to find the courage to stand up for what he believes in.
There are several messages in the story. It teaches you about not interfering with nature, and to enjoy the simple things in life. It teaches you that money isn't the be all and end all, as it can change people and make them mean and selfish. It's also about self-discovery and realising who you are and finding your strengths to help you grow as a person and spread your wings.
The story is beautifully descriptive and I could picture it all in my mind. I could feel the earth beneath the feet and I could taste the flesh and juices of the mangoes from the tree. The accompanying ink illustrations by Jonathan Quinn are simple and charming and help capture the essence of the story.
I didn't realise exactly who the narrator was until the end, which was a nice touch.
This is a wonderful story for both adults and children. I'd almost put it in the same category as Aesop's Fables. It's quite short but didn't need to be any longer as it got the story across well. It's easy to read, making it ideal for younger children who can read on their own, or for those having it read to them.
Book Reviewed by Jodie
Purchase Links