The Writing Life of: Caroline Busher
Caroline Busher
This week on 'The Writing Life of:' I am thrilled to be interviewing author Caroline Busher. Caroline will be sharing with us details of her writing life, her new book, 'The Ghosts of Magnificent Children' which was released on 26th September 2016 and answering a few fun questions too.
So without further ado, say hello to Caroline. Post contains affiliate links.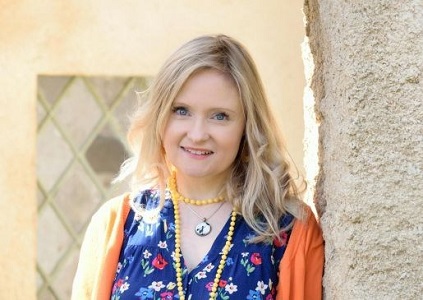 Caroline Busher graduated with a first Class Honours MA in Creative Writing (UCD) and is represented by Trace Literary Agency (USA). She is an Irish Times bestselling author and was recently appointed the Reader in Residence with Wexford County Council Library Services. Caroline teaches creative writing courses to adults and children and is the Vice Chair of Wexford Literary Festival.
Her debut novel "The Ghosts of Magnificent Children" (Poolbeg Press) has been selected for a major project called "Battle of the book" by the Dublin Airport Authority and Fingal County Council Library Services.
---
1) Do you remember the moment you decided that you would like to become a writer?
I have been a writer for as long as I can remember. I wrote my first story when I was seven years old on the back of some sweet wrappers that I found in the pocket of my duffel coat.
As a child I spent every spare moment in my local library, I devoured books and it was a young age that I really developed an interest in reading and writing. However, it wasn't until much later when I started to win awards for my work that I decided to become a full writer and to write a book of my own.
2) How did you go about following your dream?
It was important to me to learn as much as I could about the craft of writing, so I applied to do an MA in Creative Writing in UCD. I was thrilled to get accepted onto this much sought after course and I graduated with a first class honours MA in Creative Writing last year.
I knew that to achieve my dream of becoming a published author I would have to work hard, so I immersed myself in the writing community by entering writing competitions, attending book launches and working for literary festivals. It was during the Wexford Literary Festival in 2014 that I met my agent. Then in March this year I was offered a three book deal by the wonderful Poolbeg Press and my debut novel "The Ghosts of Magnificent Children" was released in October.
3) Which authors inspire you?
I write magical realism and dark, twisted fairy tales. Two authors that really inspired me are Neil Gaiman and Angela Carter. Both authors have written highly imaginative work with a dark edge to it.
4) What is your working day like? Do you aim for a certain amount of pages/words per day?
I live in the countryside, my house is nestled between the mountains and the Sea and I can't help but be inspired by the beautiful landscape. I aim to write 2,000 words a day. When I am not writing I am reading books and visiting libraries and schools throughout the country both in my capacity as an author as the Reader in Residence with Wexford County Council Library Services.
5) Do you have any strange habits or rituals whilst writing?
I start each writing day with a cup of tea and a poem. I feel that this ritual helps me to focus my mind when working on a book.
6) Do you write Longhand, Typewriter, Computer?
I always carry a notebook with me as you never can tell where or when inspiration can strike. I write my initial ideas longhand but when it comes to writing my novels I use a computer as I find it much easier to edit that way.
7) Do you have a favourite character(s) in any of your books?
My favourite character is Ginny in "The Ghosts of Magnificent Children". Ginny is captured by Badblood's circus as she has a special ability. Ginny has a birdcage instead of a rib-cage it is made entirely from bone and a little bird called Blue lives inside her. Ginny came to me fully formed it is as though she was always there lurking in the recesses of my mind.
8) Do you plot your books completely beforehand, or do you let your imagination flow whilst in the writing process?
I let my imagination flow. Trusting the creative process in an important part of how I write. I like to follow my characters and see where they take me and I am always pleasantly surprised.
Concerning your latest book: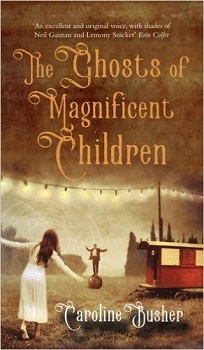 The Ghosts of Magnificent Children
Author – Caroline Busher
Publisher – Poolbeg for Children
Pages – 468
Release Date – 26th September 2016
ISBN 13 – 978-1781998748
Format – ebook, paperback

The year is 1848. It is a time when magic and ghosts exist.
Four Magnificent Children are captured by Badblood's Circus.
Theo can look into your eyes and reveal your secret thoughts, which come out of his mouth like a swarm of bees.
Ginny has a bird called Blue living inside her. Her ribs are woven together to form a birdcage. Blue perches on a swing made from one of her ribs.
And the Thought-reading Twins, Archie and Millie Luxbridge, have an extraordinary ability to read each others minds.
They become stars of the circus but are unaware that Badblood has a dark and secret plan.
One hundred years later the children's ghosts appear on an island off the coast of Ireland where a boy called Rua befriends them. Rua discovers that a terrible fate awaits them and, in a desperate race against time, he struggles to learn how they may be saved.

9) How long did it take to get from the ideas stage, to the date of publication?
The idea for my novel came from my childhood I grew up in a Victorian House on the outskirts of Manchester and I have always had a fascination with the creepy Victorians and how they lived their lives, in particular the circus shows and carnival acts. I also adore a good ghost story.
My book could be described as a ghost story set in the Victorian Era. I completed "The Ghosts of Magnificent Children" when I was studying for my MA in Creative Writing and my book was published a short time later by Poolbeg Press.
10) Did you suffer from writer's block at any stage? How did you overcome it?
Thankfully I haven't suffered from Writer's Block so far. When I am writing a novel I tend to get swept along in the story and can't wait to get to my desk the each day. I get the same feeling when I am reading a book and don't want to put it down. However, you can't force creativity and on days when the creative flow isn't there I read or go for a walk on the beach and trust that it will return the next day.
11) How did you come up with the name(s)for your lead character(s)?
I like the idea of name following function. One of the main characters in my novel is a circus ringmaster called Badblood, he is a wicked character who captures the Magnificent Children. I picked a name that I felt was reflective of his character.
12) Can you give us an insight into your main character (s), What makes them tick?
Theo is one of the Magnificent Children, he has the ability to look into a person's eyes and see how they are going to die and he can levitate.
Theo was orphaned as a child and had to fend for himself on the streets of Victorian London. The only person that Theo cares about is Ginny and he is like a big brother to her. Archie and Mildred Luxbridge are also Magnificent Children, they are telepathic twins and Millie can shape shift into a fox. They come from a wealthy family and are desperate to get back home.
13)If your book was made into a film, who would you love to play the lead character(s)?
If "The Ghosts of Magnificent Children" was made into a film, I would like Evanna Lynch to play the role of Ginny, and Johnny Depp would be perfect as Badblood.
14) Did you get anyone in particular to read your work before sending it to the publisher i.e family member, friend etc?
I wrote most of my novel when I was completing my MA in Creative Writing, therefore, the first people to read my work were my lecturers and fellow students. Peer critique is helpful when writing and I would highly recommend that aspiring writers join a writing group, it is good to receive constructive feedback on your work.