Bloodie Bones by Lucienne Boyce – Book Review
Bloodie Bones by Lucienne Boyce – Book Review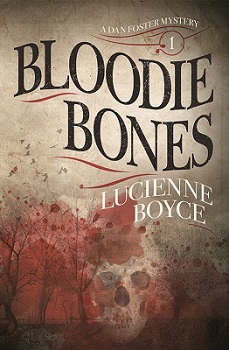 Bloodie Bones


A Dan Foster Mystery
Author – Lucienne Boyce
Publisher – Silverwood Books
Pages – 264
Release Date – 7th May 2016
ISBN-13 – 978-1781323601
Format – ebook, paperback
Reviewer – Lindsay
I received a free copy of this book
Post Contains Affiliate Links

"Parsons and tyrants friends take note. We have born your oppreshuns long enough. We will have our parish rights or else Bloodie Bones will drink your blood."
When Lord Oldfield encloses Barcombe Wood, depriving the people of their ancient rights to gather food and fuel, the villagers retaliate with vandalism, arson and riot. Then Lord Oldfield's gamekeeper, Josh Castle, is murdered during a poaching raid. Dan Foster, Bow Street Runner and amateur pugilist, is sent to investigate.
Dan's job is to infiltrate the poaching gang and bring the killers to justice. But there's more to Castle's death than at first sight appears. What is the secret of the gamekeeper's past and does it have any connection with his murder? What is Lord Oldfield concealing? And did someone beside the poachers have a reason to want Josh Castle dead?
As tensions in Barcombe build to a thrilling climax, Dan will need all his wits and his fighting skills to stay alive and get to the truth.

Reviewing books makes one ask, "What makes a book so great you want to read it over and over?" Each reader would have a different answer. I have a few key criteria and Bloodie Bones topped each one.
The characters have to be intriguing, lovable, hate-able, beguiling and/or interesting enough to want to know them in real life. Boyce's Dan Foster is such a character.
His rough childhood and rescue give him a depth. What he chooses to do in his profession-and not many options are available to amateur pugilists in 1796 England-adds to his like-ability. His relationships with his harpy wife and her sister add intrigue. I just want to know him more.
Another criteria is that the story-line has to grab my focus and attention from the start and then hold it for the entire read. The historical aspect of this novel is not what many would call fascinating, however Boyce skillfully puts the reader into setting with her descriptions, especially about the way of life and the plight of the poor. Boyce doesn't just describe, she brings to life.
The plot has to be entertaining enough to draw my focus from other things and the people become "my people." I was so involved in this story, that I had to read in order to find out what happens to my people. It wouldn't seem like a land dispute would engage that kind of focus, but my attention was zeroed in on knowing the outcome. A murder and undercover cop lend the perfect mystery. The plot twists added more fuel to the fire, so much that I had to finish it in one sitting.
I love Dan Foster and I am thrilled that this is the first in a series. I will have to read Bloodie Bones over and over while waiting for the next instalment!
Book Reviewed by Lindsay
Purchase Links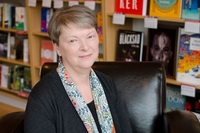 Lucienne was born in Wolverhampton and now lives in Bristol, England, which is the inspiration and setting for much of her work. She completed an MA in English Literature (with Distinction) with the Open University in autumn 2006, specialising in eighteenth-century fiction.
She is a member of the Historical Novel Society, having joined shortly after the HNS was founded. She has written numerous articles, reviews and interviews for the HNS and was formerly editor of the Society's fortnightly e-Newsletter. She is on the committee of the South West and Wales Women's History Network, and is a member of the the Regional History Network and the Friends of the Women's Library.
Author Links