Love and Hate by Vidisha Chandna Dua – Book Review
Love and Hate by Vidisha Chandna Dua – Book Review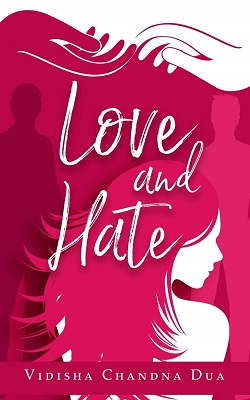 Love and Hate
Author – Vidisha Chandna Dua
Publisher – Blurb
Pages – 96
Released – 4th December 2020
ISBN-13 – 978-1715453886
Format – ebook, paperback, hardcover
Review by – Selina
Rating – 5 Stars
I received a free copy of this book.
This post contains affiliate links.


Alia's life is changed unexpectedly because of the choice she made. She moves away from home to rebuild her life again where she meets her tall and handsome neighbor Vikrant, skeptical at first about his intentions she starts to care for him.
Her happiness is short lived as her past soon catches up to her. How is she going to bring her life on track again? Can she trust Vikrant? Will love conquer hate or is that an impossible task?
Vikrant is a man with a purpose. He needs answers and will not rest till he gets them. He moves in a studio apartment where he meets Alia, who seems to be sweet and helpful. Will he listen to his heart or finish what he came to do?

We meet Alia, who moves away home to start afresh. In her new apartment building, we learn of her handsome neighbour Vikrant, who lives opposite Alia. She soon feels something isn't quite right with him but the more she sees him the more she starts to develop feelings for him.
Enter Rahul, a friend of Vikrant but what is his connection to Alia?
As I continue with the story I become engaged with the characters and their lives, and the reasoning behind the what's and why's. Despite their flaws, it's hard not to like them all.
There is a twist that I didn't see coming and I loved the way the mystery of the story all came together in the end.
Love and Hate was a really good read despite it being very short at just 96 pages long. I did find it hard to put down and read the book in one sitting.
Book Reviewer – Selina
---
Purchase online from:
---
About the Author

Ever since she can remember Vidisha has been a daydreamer. She loves to travel, try different cuisines, dance, listen to music and most of all she loves to read. She is also a Chartered Accountant who has worked in the Finance industry for over 11 years.
Vidisha took a break from work when her daughter was born. Her life changed when she took her daughter to her first dance class. She had an hour to spare so she started writing a story and then there was no looking back. Her first Romance Novella 'Life's Not Over Yet' is the first in a series of books about life. With life experiences from the Middle East, Scandinavia, Australia and India, Vidisha weaves an emotional and romantic journey for her characters.
She has always believed that if you really want something, the universe will come together and open doors that you never thought existed, all you have to do is listen and look carefully around you.





---
What did you think of Love and Hate? Share your thoughts in the comment section below!
---
The above links are affiliate links. I receive a very small percentage from each item you purchase via these link, which is at no extra cost to you. If you are thinking about purchasing the book, please think about using one of the links. All money received goes back into the blog and helps to keep it running. Thank you.
Like us on Facebook – Tweet us on Twitter – Pin us on Pinterest