The Inaugural Meeting of the Fairvale Ladies Book Club by Sophie Green – Book Review
The Inaugural Meeting of the Fairvale Ladies Book Club by Sophie Green – Book Review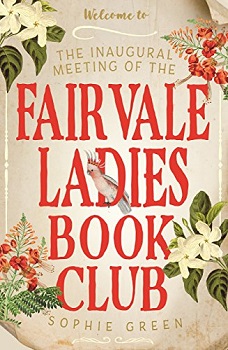 The Inaugural Meeting of the Fairvale Ladies Book Club
Author – Sophie Green
Publisher – Sphere
Pages – 432
Released – 1st March 2018
ISBN-13 – 978-0751570403
Format – ebook, paperback, audio
Reviewer – Stacey
Rating – 4 Stars
I received a free copy of this book
Post contains affiliate links
In 1978 in Australia's Northern Territory, life is hard and people are isolated. Telephones are not yet a common fixture. But five women find a way to connect.
Sybil, the matriarch of Fairvale Station, misses her eldest son and is looking for a distraction, while Kate, Sybil's daughter-in-law, is thousands of miles away from home and finding it difficult to adjust to life at Fairvale.
Sallyanne, mother of three, dreams of a life far removed from the dusty town where she lives with her difficult husband.
Rita, Sybil's oldest friend, is living far away in Alice Springs and working for the Royal Flying Doctor Service.
And Della, who left Texas for Australia looking for adventure and work on the land, needs some purpose in her life.
Sybil comes up with a way to give them all companionship: they all love to read, and she starts a book club. As these five women bond over their love of books, they form friendships that will last a lifetime.

Set in the Australian outback, starting in 1978, in a place called Fairvale, Sybil Baxter remembers all to well what it was like to arrive in such an isolated place all those years ago.
When her son Ben brings home his British wife, Sybil needs to find a way to help her settle in and not feel alone. A book club springs to mind and will the help of her friend Rita the two get the club up and running.
But the book club is more than just what is going on inside the pages, it is more about the friends, and their lives, both past and present.
Upon starting to read The Inaugural Meeting of the Fairvale Ladies Book Club, I was surprised at how hard going I found it, and how slow the book was. If I'm being completely honest, three chapters in and I was all set for giving up. I put the book down and walked away from it. However, only a few days later I had the urge to pick it up again.
This is a book that gets better the longer you read on. Not only did the plot progress into something so touching and meaningful, but the characters all develop and evolved as the pages turned and I found myself really getting involved in their lives.
There is so much depth to this book. So many hard-hitting issues that the women have had to live through that they shared. This is a book that touched me, emotionally.
This isn't a story that you can whizz through. This is one that must be savoured and taken slowly. It took me out of my comfort zone, and I am so happy that I returned to it, otherwise I'd of missed out on an outstanding book.
Reviewed by Stacey
---
Purchase online from:
---
About the Author
Sophie Green is an author and publisher who lives in Sydney. She has written several fiction and non-fiction books, some under other names. In her spare time she writes about country music on her blog, Jolene. She fell in love with the Northern Territory the first time she visited and subsequent visits inspired the story in THE INAUGURAL MEETING OF THE FAIRVALE LADIES BOOK CLUB.


---