In Our Mad and Furious City by Guy Gunaratne – Book Review
In Our Mad and Furious City by Guy Gunaratne – Book Review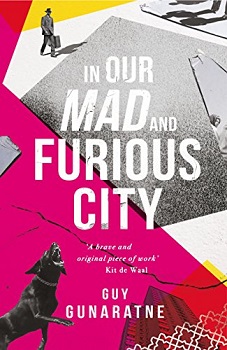 In Our Mad and Furious City
Author – Guy Gunaratne
Publisher – Tinder Press
Pages – 304
Released – 18th April 2018
ISBN-13 – 978-1472250193
Format – ebook, paperback, hardcover, audio
Reviewer – Clive
Rating – 4 Stars
I received a free copy of this book
Post contains affiliate links.
For Selvon, Ardan and Yusuf, growing up under the towers of Stones Estate, summer means what it does anywhere: football, music, freedom. But now, after the killing of a British soldier, riots are spreading across the city, and nowhere is safe.
While the fury swirls around them, Selvon and Ardan remain focused on their own obsessions, girls and grime. Their friend Yusuf is caught up in a different tide, a wave of radicalism surging through his local mosque, threatening to carry his troubled brother, Irfan, with it.

My initial reactions to this book were "what do these words mean" and "what is going on"? The first question was because the narrative is written from the perspective of half a dozen very different characters of which four are teenagers from inner London, whose everyday language is very much of the street. During the early chapters I found www.urbandictionary.com very handy but as the book progressed I became more comfortable with the terms.
My second question was because I could not easily fit together the characters although I felt confident that the author would bring them together in time. This he did but I was then left with concerns over the timelines as I could not reconcile the generational gaps.
However, even if you share my concerns please persist with reading the book.  It will be worth it.
All the characters are either first or second generation immigrants living on an inner-London estate and Guy Gunaratne explores in depth many of the challenges they face as they cope as best as they can with living in a densely populated area with a mixture of races and backgrounds. In the Acknowledgements section he uses the apt term "survival".
In Our Mad and Furious City is written in a gritty, uncompromising style.  It is sombre most of the time, bordering on depressing, eased by a little humour and some guarded companionship between the boys.
As I said above Gunaratne concentrates on the lives of immigrant families and what might be referred to as "native British" people are restricted to the police and some racist mobsters. Whilst he is right to highlight the challenges of immigrant families, I believe that most of the issues covered are shared by all relatively poor people in our inner cities. In particular I am thinking of the struggle to make a living on basic wages, coping with inadequate, cramped accommodation, prejudice and bigotry.
You will probably find In Our Mad and Furious City hard to read, hard to follow and short of pleasure. You will also find it impossible to ignore, hence my award of four stars.
Reviewed by Clive
---
Purchase online from:
---
About the Author

As a writer, filmmaker and video journalist he has covered human rights stories around the world and was shortlisted for the 4th Estate/Guardian Books B4ME Short Story Prize. IN OUR MAD AND FURIOUS CITY is his first novel. He now lives between London, England and Malmö, Sweden.




---