When The Waters Recede By Graham Smith – Book Review
When The Waters Recede By Graham Smith – Book Review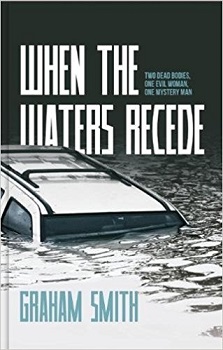 When The Waters Recede
DI Harry Evans Book Three
Author – Graham Smith
Publisher – Caffeine Nights Pub
Pages – 260
Released – 31st May 2018
ISBN-13 – 978-1910720967
Format – ebook, paperback
Reviewer – Stacey
Rating – 5 Stars
I received a free copy of this book
Post contains affiliate links.
When a car is pulled from raging floodwaters with a dead man in the front and the decapitated body of an evil woman in the boot, Cumbria's Major Crimes Team are handed the investigation.
The woman is soon recognised, but the man cannot be identified and this leads the team and their former leader, Harry Evans, into areas none of them want to visit. Before they know it, they're dealing with protection scams and looking for answers to questions they didn't know needed to be asked.

DC Lauren Phillips has been called to the scene of a stolen car submerged in the swollen river Cocker, Cumbria, after the recent bad weather and floods. Inside the car, in the driver's seat, is a man. Unfortunately, upon dragging the car out of the water the man is declared deceased.
After going through his pockets and finding just some change, a set of keys and a wad of £20 notes, DC Phillips starts to look through the car to see if she can find any identification as to who he is. However, popping the trunk open starts her on a new case, that of the murder of the decapitated woman inside.
DC Phillips knows she is going to need some help with this case so makes a call to her former boss, Harry Evans, who is now working as a police consultant after being pensioned off. Harry knows the identity of the woman, Jenny Fisher, a low-level criminal liked by no-one. The driver's identity is proofing tricky to solve as his DNA and fingerprints are not know to the police.
Who is this elusive man, and why has Jenny Fisher been killed in a horrific manner? It's up to Lauren and Harry to find out.
When the Waters Recede is an enthralling crime novel. It is the third book in the Harry Evans series and the first I have read. Whilst I agree with can be read as a standalone too, I do think to get a more rounded picture of the characters the first two really need to be read.
The story covers more than just the one crime, and I found myself trying to work out the puzzle as to whether they all would be related in some way.
Harry is an old-fashioned ex-detective, from the way he conducts his business to even his speech and attitude, you can tell he had a good few years in the job before being made to retire, something he deeply regrets.
Lauren is new-school to Harry's old. She has more tact about her and conducts herself in an altogether different manner. She is also one tough woman who doesn't take any rubbish from anyone and is exceptional at her job.
The two characters really bounce off one another and it works so well, especially with a great secondary cast too. The setting of Cumbria is just perfect, I love the area. I have noticed though quite a few crime/thriller books being set in the Lake District recently.
When the Waters Recede is a book you can really sink your teeth into if you love criminal investigation books. It has plenty of twists to keep you on your toes and the writing flows effortlessly making it a smooth gripping read.
Reviewed by Stacey
---
About the Author

Graham Smith is a time served joiner who has built bridges, houses, dug drains and slated roofs to make ends meet. Since Christmas 2000, he has been manager of a busy hotel and wedding venue near Gretna Green, Scotland.
He is an internationally best-selling Kindle author and has four books featuring DI Harry Evans and the Cumbrian Major Crimes Team, and three novels, featuring Utah doorman, Jake Boulder.
An avid fan of crime fiction since being given one of Enid Blyton's Famous Five books at the age of eight, he has also been a regular reviewer and interviewer for the well-respected website Crimesquad.com since 2009.
Graham is the founder of Crime and Publishment, a weekend of crime-writing classes which includes the chance for attendees to pitch their novels to agents and publishers. Since the first weekend in 2013, eight attendees have gone on to sign publishing contracts.



---