There is Always More to Say by Lynda Young Spiro – Book Review
There is Always More to Say by Lynda Young Spiro – Book Review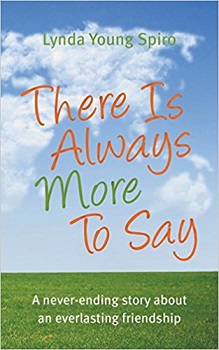 There is Always More to Say
Author – Lynda Young Spiro
Publisher – New Generation Pub
Pages – 170
Release Date – 15th April 2016
ISBN-13 – 978-1785076930
Format – ebook, paperback, hardcover
Reviewer – Julie
I received a free copy of this book
Post Contains Affiliate Links

Soho 1984: Two people meet and their worlds are changed forever. An unexpected meeting – a look that means their lives will never be the same again. In "There Is Always More To Say", Lynda Spiro chronicles the lives of the couple through friendships, marriage, fleeting moments and snatched time.
It is a passionate account about a connection between two people that never dies even when tested by distance and when life throws the unexpected at their feet. "The meeting of two personalities is like the contact of two chemical substances. If there is any reaction both are transformed." C G Jung
Review
'There is Always More to Say' is the debut novel from British author, Lynda Young Spiro. It is written in the first person in a diary-like format. The names of the narrator and the person who occupies her thoughts remain undisclosed and I very quickly realised that all their foils have gender-neutral names.
The deliberate avoidance of 'he' and 'she' was used as a literary device which necessitated the repeated use of supporting characters' names – if it works, it's very clever if it doesn't, it makes for clumsy sentences and disjointed reading.
I liked the quotes at the beginning and end of each chapter and felt they added an extra dimension and also the descriptive passages regarding the flora and fauna.
The tale moves between various dates from 1984 to 2015 and charts an emotional attachment between two café co-workers. I believe the narrator of the story is female mainly because of a brief anecdotal comment from her father and also she's addressed as 'Girlie' which was an acceptable term of endearment thirty years ago. As to the gender of the object of her affection, I'm unsure but think it most likely male but that could be interpreted as a value judgement on my part.
This might be a love story or an enduring friendship; that again is for the reader to decide but either way, there is a sensitive dynamic played out between the two characters. We understand that the impact will be everlasting for them both but because we are not fully taken into the confidence of the narrator and do not know exactly what transpired between the couple, it becomes difficult to empathise.
Had the amount of repetition been ironed out, the structure would have been tighter with the narrator more focused on the story she wanted to share. Objectively, at 159 pages in paperback form, it is a fairly quick read, ideal for the beach. Subjectively, I found it hard to identify with unnamed protagonists and a gender-fluid cast. The author has left it to the reader to fill in the gaps and I wasn't equal to the challenge.
Nonetheless, There is Always More to Say is certainly an off-beat, non-formulaic read and I'm sure this book will appeal to readers who can identify layers to the tale that I've missed. I award 'There is Always More to Say' a respectable three stars.
Book reviewed by Julie
Purchase Links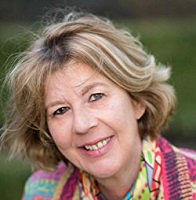 Lynda Young Spiro is a mixed media artist whose love of textiles, found objects and recyclable materials are incorporated into her colourful work. Lynda was born in 1959 in Hampstead, London, where she now lives with her husband and two sons. Lynda's previous book Latch-Hooking Rugs is published by A & C Black. There is Always More to Say is her first novel.
Author Links