A Fox Called Herbert by Margaret Sturton – Book Review
A Fox Called Herbert by Margaret Sturton – Book Review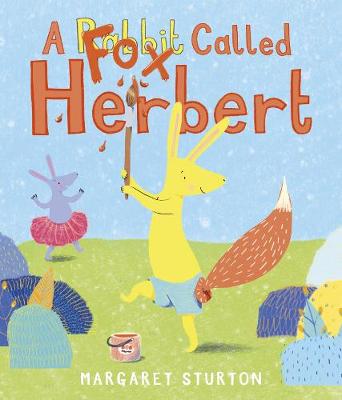 A Fox Called Herbert
Author – Margaret Sturton
Publisher – Andersen Press
Pages – 32
Released – 2nd April 2020
ISBN-13 – 978-1783448708
Format – paperback, hardcover
Review by – Stacey
Rating – 4 Stars
I received a free copy of this book.
This post contains affiliate links.


Meet Herbert: the rabbit who knows he was born to be a fox. When his mummy isn't looking, he puts on pointy fox ears, makes himself a bushy tail, and asks his sister to paint him orange, just like a fox. But Mummy doesn't understand: why can't he just be a good rabbit?
A Fox Called Herbert is a true celebration of being ourselves and supporting our loved ones. Let this joyful tale inspire you to be who you are and follow your dreams.

Herbert the rabbit wanted to be a fox. He tried pushing his ears down and adding little ears on top of his head. He tried painting himself and he tried wearing a bushy tail. His mum couldn't understand why Herbert was being a pain and going to all the effort to look like a fox when he is a rabbit.
A Fox Called Herbert is a young children's book about identity and not feeling like you belong in the body you have been given and wanting to be something different. In Herbert's case, he didn't want to be a rabbit he wanted to be a fox.
Herbert is brave to stand up for what he believes in and I hope that this gives children an insight into the modern world where some people don't feel comfortable in the body they have been given or being identified in a certain way and that there is nothing wrong with that. By educating children whilst they are little we will hopefully improve the world and the way some people in society are treated.
Although I must say as a parent I'm not so sure I'd have let Herbert get away with cutting up one of my dresses so easily!
This is a lovely book that is beautifully illustrated with full-page drawings and I can see it leading to further conversations about the subject.
Book Reviewer – Stacey
---
Purchase online from:
---
About the Author

Margaret Sturton was born and grew up in Southampton. She has always had a strong passion for children's books. She studied Fine Art at Winchester School of Art and an MA in Children's Book Illustration at Anglia Ruskin. She decided to retrain as an illustrator and 'A Fox called Herbert' was written while she was studying at Anglia Ruskin.
Margaret now lives in Winchester with her boyfriend and cat.


---
What did you think of A Fox Called Herbert? Share your thoughts in the comment section below!
---
The above links are affiliate links. I receive a very small percentage from each item you purchase via these link, which is at no extra cost to you. If you are thinking about purchasing the book, please think about using one of the links. All money received goes back into the blog and helps to keep it running. Thank you.
Like us on Facebook – Tweet us on Twitter – Pin us on Pinterest