Two Bears by Patricia Hegarty – Book Review
Two Bears by Patricia Hegarty – Book Review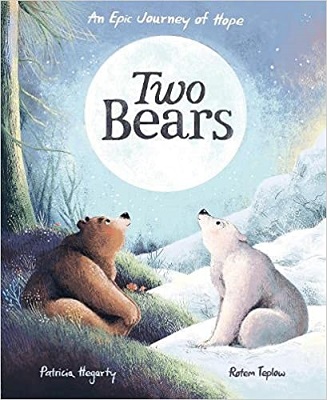 Two Bears
An epic journey of hope
Author – Patricia Hegarty
Illustrator – Rotem Teplow
Publisher – Caterpillar Books
Pages – 32
Released – 11th November 2021
ISBN-13 – 978-1838913625
Format – paperback, hardcover
Rating – 5 Stars
I received a free copy of this book.
This post contains affiliate links.


Synopsis
Discover what happens when two bears who are worlds apart embark on the journeys of a lifetime and find that sometimes differences are only skin-deep.
A poignant and heart-warming story which teaches little learners about embracing differences, while carrying a subtle environmental message. Delicate illustrations and animal characters bring the natural world to life and transport readers across the globe, from the northern forests to the icy Arctic.
Gentle text and an uplifting, family-oriented ending make this perfect for reading with your little one. From the author of Everybody's Welcome and In Your Arms.
Two Bears is a tale of both climate change and acceptance no matter your skin colour. Two bears, one Grizzly Bear, and one Polar Bear live in completely different environments. One day the Grizzly Bear finds his home ravaged by fire and invaded by strangers. The Polar Bear finds her home is melting. They both go looking for a new place to live.
They trek until they end up coming face to face, where they realise there might be differences between them on the outside but on the inside, they are both the same and they want the same thing, a safe place to live.
The book teaches young children about climate change but in a calming and delicate way. At the back of the book, the author has also written factual information about climate issues affecting the bear's homes and what people can do to help.
I also love the way the author shows acceptance via the bears and has them falling in love and producing a Pizzly Bear too (A Grizzly and Polar hybrid).
This is a beautiful story combined with some full-page illustrations that are very sweet and look amazing, plus, they certainly bring the story to life. A fabulous book and one that will gently introduce children to climate issues.
Purchase Online From:
---
What did you think of 'Two Bears'? Share your thoughts in the comment section below!
---
The above links are affiliate links. I receive a very small percentage from each item you purchase via these links, which is at no extra cost to you. If you are thinking about purchasing the book, please think about using one of the links. All money received goes back into the blog and helps to keep it running. Thank you.
Like us on Facebook – Tweet us on Twitter – Pin us on Pinterest – Join us on Instagram