Know Your Rights: and Claim Them by Amnesty International – Book Review
Know Your Rights: and Claim Them by Amnesty International – Book Review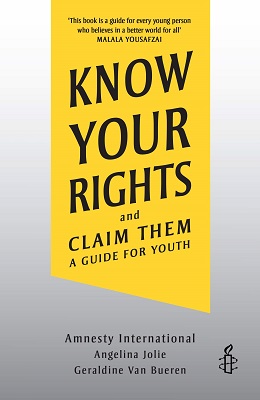 Know Your Rights: and Claim Them
Author – Amnesty International, Angelina Jolie, Geraldine Van Bueren
Publisher – Andersen Press
Pages – 288
Released – 2nd September 2021
ISBN-13 – 978-1839131196
Format – ebook, paperback, audio
Rating – 4 Stars
I received a free copy of this book.
This post contains affiliate links.


Synopsis
If you are aged under 18 you have your own set of human rights. Child rights are unique freedoms and protections designed for you. Governments should uphold them but all across the world they are violated. Know Your Rights and Claim Them gives you the knowledge and tools to claim your rights. It introduces them and explains why they matter in the real world. From gender and racial equality, to the rights to free expression, health, a clean climate and a sustainable environment, they are yours to claim.
Know Your Rights and Claim Them celebrates the difference young activists have made in every corner of the world, and shows you how to challenge injustice wherever you may find it. It presents expert advice on peaceful protest, raising awareness at school and in your community, starting your own campaign and getting those in power to listen, plus vital guidance on protecting your safety, digital security and mental health.
These are your rights. It is your right to know and claim them.
Know Your Rights: and Claim Them is a book for children and young adults, up to the age of 17 (Because under 18s have their own set of human rights). It contains vital information for those under 18 on what rights they have in the vast majority of countries around the world.
The book covers the history of child rights, the different rights the child has and gives real-life examples of how children have fought for their rights.
The book opens with a message from Angelina Jolie regarding how many adults won't want children to read this book as it gives the reader knowledge that will empower them and arm them with information on the rights they have had since birth but probably didn't know about. I totally understand her view and I can hazard a guess that many children don't understand that they have plenty of rights in law. However, whilst I commend that a book like this has been written I can also hazard a guess that it won't make it into the hands of those that truly need it, especially those that are in dangerous and horrific situations.
The book is split into four sections: Know your Rights, Understand your Rights, Claim your rights, and Resources and Other Information and is a book that the reader can dip in and out of. It is filled to the brim with law and rights and includes everything a child needs to know.
Whilst I do commend what the authors have written, the book comes across as quite clunky and is not very visually appealing. It tries to pack every little detail into the 288 pages and uses legal jargon throughout. Yes, there is a guide at the back for looking up these terms but this means the reader keeps on having to stop, look up the guide, read what the word or phrase means and return to where they left off. It feels very much like reading an encyclopaedia.
Finding the right balance was key with this book and I'm not too sure that it has been found. Regardless of my thoughts, this is a book that every school, library, etc should have. I do hope that it makes it into the hands of those that need it and that they can understand it and use the vital knowledge they will have gained to help change their situation.
Purchase Online From:
---
What did you think of 'Know Your Rights: and Claim Them'? Share your thoughts in the comment section below!
---
The above links are affiliate links. I receive a very small percentage from each item you purchase via these links, which is at no extra cost to you. If you are thinking about purchasing the book, please think about using one of the links. All money received goes back into the blog and helps to keep it running. Thank you.
Like us on Facebook – Tweet us on Twitter – Pin us on Pinterest – Join us on Instagram