Viper's Daughter by Michelle Paver – Book Review
Viper's Daughter by Michelle Paver – Book Review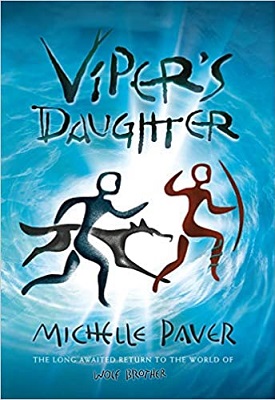 Viper's Daughter
Chronicles of Ancient Darkness Book Seven
Author – Michelle Paver
Publisher – Zephyr
Pages – 256
Released – 2nd April 2020
ISBN-13 – 978-1789540550
Format – ebook, paperback, hardcover, audio
Review by – Stacey
Rating – 4 Stars
I received a free copy of this book.
This post contains affiliate links.


A boy. A wolf. The legend lives on.
Viper's Daughter is the seventh book in the award-winning series that began with Wolf Brother, selling over 3 million copies in 36 territories. Like them it can be read as a standalone story.
For two summers Torak and Renn have been living in the Forest with their faithful pack-brother, Wolf. But their happiness is shattered when Renn realizes Torak is in danger and she's the threat.
When she mysteriously disappears, Torak and Wolf brave the Far North to find her. At the mercy of the Sea Mother and haunted by ravenous ice bears, their quest leads them to the Edge of the World. There they must face an enemy more evil than any they've encountered.
Viper's Daughter plunges you back into the Stone-Age world of Torak, Renn and Wolf: a world of demons, Hidden People and exhilarating adventure which has entranced millions of readers.

Torak and Renn have been living in the forest with their wolf brothers. One day Renn disappears. She believes that she is a danger to the pack and sets off on her own journey. Torak doesn't believe that Renn would just up and leave them and so he sets off after her, leading the pair on a journey to the edge of the world.
Viper's Daughter is the seventh book in the 'Chronicles of Ancient Darkness' series. It is also the first book I have read from the series. Whilst it is deemed to be a standalone, I must say I personally didn't think it worked this way as it felt like there was a lot of back information that I had missed and there were parts of the story I didn't fully understand. Because of this, I would say you do need to read the others in the series to truly understand and enjoy this book.
The story is a quick read and the plot was enjoyable if for me a little confusing at times. Because the book jumped right into the action I didn't know who any of the characters were or what time period the book was set in. I was trying to work out if Torak was a human, a wolf or another creature. Turns out that Torak is a teenage boy and the story is set some six thousand years ago.
The book reminded me a little of The Jungle Book and I loved the relationship between Torak and his wolf brother. There is a lot of twists, turns, and adventure within the pages and I am sure middle-grade children will adore it, especially those that have been following the series from the start.
There were a lot of elements to the plot and the writing had me eagerly turning the pages wanting to know where Renn was heading and would Torak catch up to her and what evils would they face. Overall it is a unique book that has been well-researched as it felt very realistic. I have a soft spot for wolves so this helped my enjoyment too.
Book Reviewer – Stacey
---
Purchase online from:
---
About the Author

Born in Malawi to a Belgian mother and a father who ran the tiny 'Nyasaland Times', Michelle moved to the UK when she was three. She was brought up in Wimbledon and, following a Biochemistry Degree from Oxford University, she became a partner in a big City law firm. She gave up the City to follow her long-held dream of becoming a writer.
Successfully published as an adult author, the Chronicles of Ancient Darkness ("Wolf Brother") were her first books for younger readers, followed by her brilliant 5-part series set in the bronze age, Gods and Warriors.
On the adult side, her first ghost story, DARK MATTER, was a UK bestseller and won massive praise from reviewers and readers, as did her second ghost story, THIN AIR.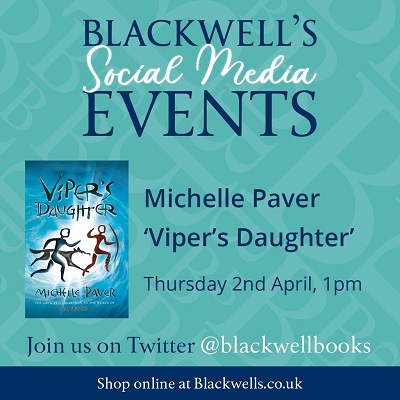 ---
What did you think of Viper's Daughter by Michelle Paver? Share your thoughts in the comment section below!
---
The above links are affiliate links. I receive a very small percentage from each item you purchase via these link, which is at no extra cost to you. If you are thinking about purchasing the book, please think about using one of the links. All money received goes back into the blog and helps to keep it running. Thank you.
Like us on Facebook – Tweet us on Twitter – Pin us on Pinterest