Unpublished Piece of Flash Fiction by Stephen Anthony Brotherton – Guest Post
Unpublished Piece of Flash Fiction by Stephen Anthony Brotherton – Guest Post
Today on the blog we welcome author Stephen Anthony Brotherton, with his guest post 'An original, unpublished piece of flash fiction', as part of the blog tour for his new book, 'One Last Shot', which was released on 28th February 2020. This post contains affiliate links.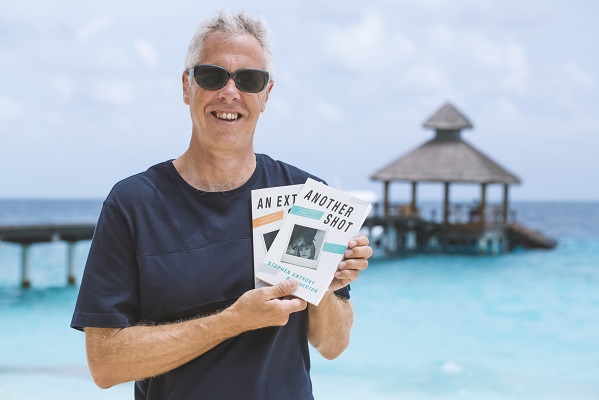 I was born in Walsall, grew up in the West Midlands and now live in Telford with my two cats, Boris and Tai.
After working in the health and social care sector for over thirty years, I have now written the trilogy that has been rooted in my head for most of my life.
The Shots trilogy is based on a first love relationship I had as a teenager. It tells the story of Freddie and Jo-Jo, who are reunited in a coffee shop three decades after the end of their teenage romance. How they originally met, why they parted, what happens in their lives apart, and what happens when they reunite is all told through a series of first person vignettes.
Getting these stories down on paper has been a cathartic process. I hope you enjoy them.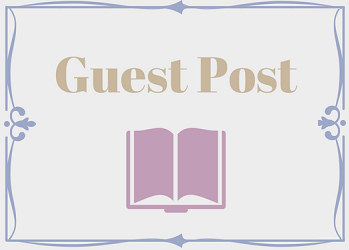 An original, unpublished piece of flash fiction: Surgery Blues
An old man coughing through another day, a woman grimacing as she re-adjusts her fashion accessory sling, two cranky three year olds running round the play table fighting over Scooby Doo.
They don't worry me.
It's the chap reading his book, legs crossed, laughing occasionally, looking like he's waiting for a body massage. Scarily healthy. Probably contagious. Probably terminal. Always fear what you can't see. It'll get you in the end.
I shake my head, check my watch. Late. Nothing new there. Perhaps that's why they call them waiting rooms. Ironic really. This is the last place you want to hang around. GPs. The proverbial Jack of all trades. The equivalent of the spotty kid at the garage kicking your tyres, drawing a sharp intake of breath, and then making a best guess.
'Mr…Bretherton.'
'Brotherton' I say, growling at the floor.
He repeats the name as though that's what he'd said in the first place.
I sigh, nod, walk across the waiting room.
'Last room on the right' he says, pointing down the corridor.
That isn't necessary. I know the way. This is my surgery. 20 years a patient. Same practice, same doctor – a six foot six bear of a man with a big bushy beard and a stethoscope. He'd retired three years ago. It's pot luck who you get now. This new chap has scuffed shoes, wears cords, looks like the apprentice. I sit in the usual chair.
'Sorry for keeping you waiting' he says, standing behind an oak desk and fanning away at his face. He sits down and starts punching away at the keyboard. 'I must type up these notes, clear my head. That last patient was a bit of a nightmare.'
'I'm sorry…'
He keeps his gaze on the screen, beads of sweat popping on his forehead. 'You must have seen him. Red braces. Bit of a nutter. You get them in this job.'
I shuffle in the chair. 'Are you okay doctor?'
He shakes his head. 'Wouldn't let me examine him. Comes in here, rattles off a load of symptoms, refuses to let me lay my hands on him. I know what I'd like to do.'
I move towards the edge of the seat and eye the door. 'I can always come back. It's not urgent.'
He bangs his final letter in place and laser locks my eyes. 'All finished,' he says. 'Now, what can I do for you?'
---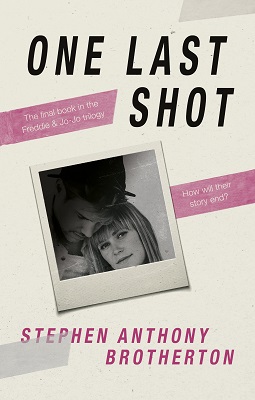 One Last Shot


The Shots Trilogy Book Three
Author – Stephen Anthony Brotherton
Publisher – Book Guild Publishing
Pages – 200
Release Date – 28th February 2020
ISBN 13 – 978-1913208509
Format – ebook, paperback

Can first love ever be reignited?
One Last Shot concludes the trilogy of Freddie and Jo-Jo, which has moved through time in a series of flashbacks, showing how the couple fell in love as teenagers, why they drifted apart, what happened in their lives away from each other, and what happens when they meet up again over three decades later.
At the end of the second book, An Extra Shot, Jo-Jo tells Freddie about her dark secret. Confused, vulnerable and in a state of shock, he says he needs time to think about what to do next. Jo-Jo's right to be worried. Freddie doesn't react well…
Purchase online from:
---
Author Links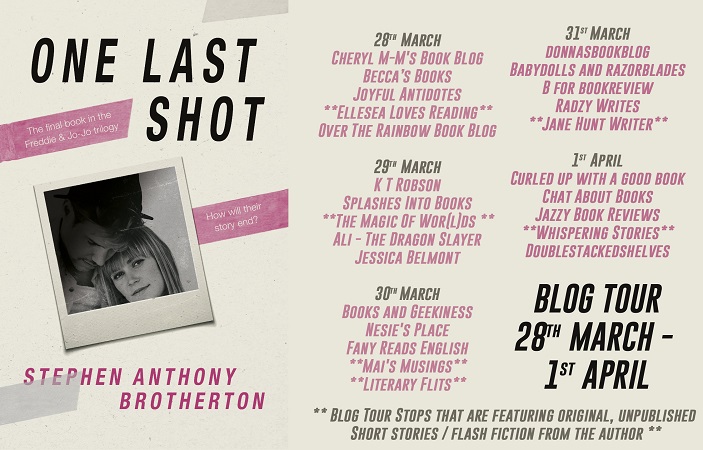 ---
Share your thoughts the Unpublished Piece of Flash Fiction guest post in the comment section below!
---
The above links are affiliate links. I receive a very small percentage from each item you purchase via these link, which is at no extra cost to you. If you are thinking about purchasing the book, please think about using one of the links. All money received goes back into the blog and helps to keep it running. Thank you.
Like us on Facebook – Tweet us on Twitter – Pin us on Pinterest