Passenger List by J. S. Dryden – Book Review
Passenger List by J. S. Dryden – Book Review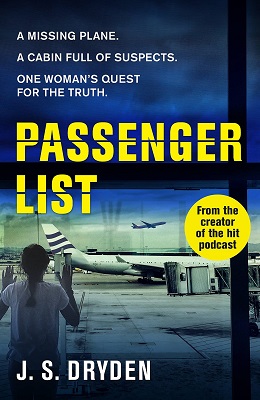 Passenger List
Author – J. S. Dryden
Publisher – Trapeze
Pages – 304
Released – 24th June 2021
ISBN-13 – 978-1398704510
Format – ebook, paperback, audio
Rating – 4.5 Stars
I received a free copy of this book.
This post contains affiliate links.


Synopsis
A missing plane.
A cabin full of suspects.
One woman's quest for the truth.
When Atlantic Airlines Flight 702 disappears mid-flight between London and New York, the world is stunned. With the public clamouring for answers, authorities seem at a loss as to how to explain the plane's disappearance.
There were 256 passengers on Flight 702, with many carrying dark secrets on board with them. Could one of them hold the truth behind the plane's disappearance?
College student Kaitlin Le's beloved twin brother Conor was on that plane. She refuses to believe the official statements, or to join her parents in their blind acceptance of Conor's death.
But as she journeys deeper into the murky heart of what really happened on board that plane, it becomes clear she's drawing attention to herself. And there are some people who would rather the truth behind the fate of Flight 702 stayed buried…
With college student Kaitlin Le refusing to accept the government's reason for the 'death' of her twin brother Conor when the plane he was on went missing over the Atlantic Ocean. She decides she is going to discover the truth aided by a mysterious person calling themselves Dylan.
During her investigation, she discovers that there were several people on the flight who could have had something to do with its disappearance, including a dodgy congressman, a human trafficker, a hacker, a sick woman travelling from Africa, an Immunologist researching pandemic inducing viruses, and a woman who has crossed paths with dangerous criminals being escorted off the plane before take-off as she was upsetting the other passengers shouting the plane was going to crash.
Kaitlin is trying to follow all of these leads and more and meets a few allies along the way, as well as a few people who want to stop her from getting too close to the truth.
I am quite an inquisitive person so Passenger List was the perfect book for me with so many leads, people to find out more information on, suspects, but nothing could have prepared me for the truth of what really happened.
I love these kinds of books, ones that get inside your head and have you working out the clues alongside the main character. Talking of our main character, Kaitlin, she is a young woman, she is hurting so badly for her twin brother Conor that her need to know the truth takes over her need to be safe. She puts herself in danger more than once and refuses to stop no matter how many people from different agencies warn her off. She knows that she is getting close the more they tell her to stop.
I can't say she was a particularly likeable character but I didn't dislike her, she was just there, getting on with her investigation and I was following her lead.
The book is fast-paced, it makes you think outside the box. With so many leads there were plenty of twists, turns, and red herrings. Passenger List is one long adventure that kept me entertained and gripped the whole way through and I enjoyed every minute of it.
Purchase Online From:
---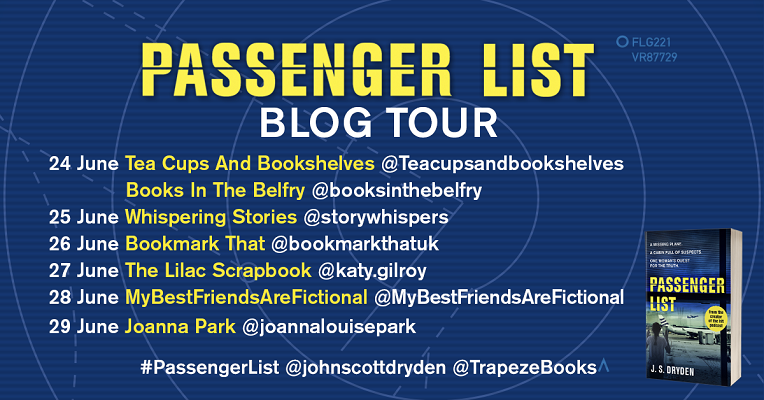 ---
What did you think of 'Passenger List'? Share your thoughts in the comment section below!
---
The above links are affiliate links. I receive a very small percentage from each item you purchase via these link, which is at no extra cost to you. If you are thinking about purchasing the book, please think about using one of the links. All money received goes back into the blog and helps to keep it running. Thank you.
Like us on Facebook – Tweet us on Twitter – Pin us on Pinterest – Join us on Instagram